Patrick B. Mullen Endowment Fund and Prize
The Patrick B. Mullen Endowment Fund was established in recognition of the contribution and influence of Pat Mullen on the folklore program and on folklore students at The Ohio State University. The Mullen Endowment is a way of continuing a legacy of excellence in folklore not only at OSU but throughout the nation and world. Money from the Mullen Endowment helps to support OSU folklore graduate students. It is with great appreciation that we thank those of you who have contributed to the Mullen Fund and we invite interested others to consider making a contribution. Contribute to the Mullen Fund.
Patrick B. Mullen Prize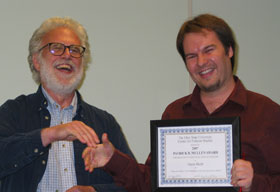 The Patrick B. Mullen Prize is awarded annually for the best graduate student paper or project submitted during the academic year. The Prize is given in honor of the significant contributions made by OSU Emeritus Professor Pat Mullen. Through his teaching, scholarship, guidance and friendship, Pat has influenced hundreds of students and colleagues both in and out of folklore. In 2005, Pat's friends, colleagues, former students and current students made possible this award through their contributions.
Past Mullen Prize Recipients:
2014, Cassie Bower for her paper, "Many Thanks from Me, Greyhound, and My Ex-Wife: Assessing Authority and Navigating Divisions in Bus Drivers' Announcements"
2013, Joanna Spanos for her paper, "But Why a Hanging? Festival, Reenactment, and Social Memory"
2012, Elizabeth Bell for her paper, "'Pirates of Our Spirituality': The 2012 Phenomenon in Guatemala and the Value of Heritage"
2011, Rob Vanscoyoc for his paper, "America's First Professional Author (and Folklorist?): Ambivalence and the Politics of Folklore in Washington Irving's Sketch-Book"
2010, Katherine Parker for her paper, "The Ins and Outs of Mardi Gras Indians"
2009, Christopher T. Hemmig for his paper, "Peripheral Agents: Marginality in Arab Folk Narrative" and honorable mention to Elizabeth Bell for "The Retraditionalization of Local Knowledge: Kaqchikel-Maya Ceremony in Guatemala"
2008, Benjamin Gatling for his paper, "Negotiations in Performance: A Study of the Stortelling Performance of Two Afghan Storytellers" and honorable mention to Elo-Hanna Seljamaa for "He 'Put Pennies in Her Palm': Crossing Boundaries in an Estonian Infanticide Ballad"
2007, Jason Bush for his paper, "Danza de la Raza: The Folklorization of the Peruvian Scissors Dance"
2006, Ashley Overstreet for her paper, "More Than Just a Job: Acknowledging the Cognitive Practices and Values of Blue Top Waitresses."
2005, Sheila Bock for her paper "Colonialism, Feminist Rebellion, Tourism and Global Commodification: The Development of the Public Image of the Belly Dancer in the United States."
For more information on becoming a recipient of this award, please see the Patrick B. Mullen Prize Call for Submissions. Submit paper and queries to Cassie Patterson at patterson.493@osu.edu.
Contributors to the Patrick B. Mullen Endowment Fund

(in alphabetical order by last name)
Dennis Aig and Annie Bertagnolli
Georgios Anagnostu
Christopher Antonsen
Eric Ball
Daniel Barnes
Barbara Bayless
Murray Beja
Mark Bender
Al Berres
Annie Bertagnolli
Ruth Bolzenius
Rita Bova
Charles Camp
Inez Cardozo-Freeman
Phyllis Cole-Dai
Mark and Mary Conroy
Ellen Damsky
Norita Dobyns
Georgina Dodge
Bill Ellis
Kevin Eyster
Steve Fink
Dave Frantz
Alan Govenar
Richard Green
Kathy Greenwood and Bob Jones
Susan Hanson
Brooksie Harrington
Trudier Harris
Rosemary Hathaway
Joyce Hathaway
Alfonso Hawkins
John Hellmann
Gwen Herrell
Susan Huhta
Charlie and Linda Jackson
Rosemary Joyce
Lisa Kiser and Jim Battersby
June Krichbaum
Valerie Lee
William Lightfoot
Tim and Barbara Lloyd
Marlene Longenecker
Tim Lundgren
Mark Lutz
Beth MacDaniel
Mary and Ian Manning
Julian and Robin Markels
Lynne and Keith Matheny
Linda and John Milligan
Tom and Janice Mitchell
Galey Modan
Viola Newton
Elisabeth and David Nixon
Dorothy Noyes
Terry and Terri Paul
Jim Phelan
Dennis and Carol Preston
Dudley and Mary Beth Radcliffe
John D. Roberts
Michael P. Rupright
David Riede and Natalie Tyler
Mike and Mary Ellen Rupright
Ruth and Bob Russell
Andrew Salinas
James Scarff
Fran and Arnie Shapiro
Jack Shortlidge and Leslie Birdwell
Amy Shuman
Martha Sims and Brian Lovely
Fran Spratley-Frantz
Martine Stephens
Ed and Kathy Summers
Sharyn Talbert
Cynthia Taylor
Cynthia Tyson
Barbara Vogel
Sabra Webber
Carla Wilks