The Appalachian Project, Ohio: How I Got to College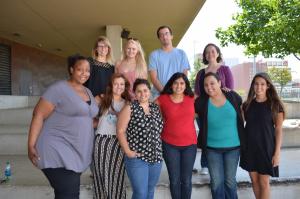 About the Project
The Appalachian Project, Ohio (AP) is a mixed-methods, interdisciplinary team of faculty, staff, and graduate and undergraduate students dedicated to understanding the educational routes of young people in the Appalachian counties of Ohio. To date, project members have already collected background research on the region, conducted site visits to 10 counties, and accumulated over 200GB of video interviews with community members. We have presented at a conference on poverty at OSU as well as at a roundtable at the annual conference of the Appalachian Studies Association (March 22-24, 2013).
The AP team takes a predominantly narrative approach to data collection, relying on quantitative data for supporting and complicating information. We believe that listening to the personal reflections of the young people and older adults affected by economic and educational challenges in the region will give us a fuller picture of the issues affecting Appalachian Ohio and lead us to new findings to assist recovery. The purpose of the project is to use interdisciplinary approaches to identify the factors affecting Ohio Appalachian students' decisions and/or readiness to obtain post-secondary education, understand Ohio Appalachian students' strategies for negotiating their college experiences, produce recommendations for addressing the barriers and challenges that students face, and work toward creating a sustainable educational and economic atmosphere in Appalachian Ohio create a conversation at OSU and beyond about the issues Ohio Appalachian students and the region face.

There are five major aspects to the project:
Preliminary research
Site visits to Ohio Appalachian counties
Anonymous online surveys with OSU students from the region
Focus group interviews with OSU students from the region
Video ethnography showcasing trends in our research, major findings, assessments, and recommendations.
Project Members
Faculty Advisor & P.I:
Professors Amy Shuman and Dorothy Noyes
Co-Directors:
Dr. Patricia Cunningham received her Ph.D. from the Education Department (Teaching & Learning) at Ohio State. She is the Director of Social Change at the Office of Student Life.
Cassie Patterson is the Assistant Director of the Center for Folklore Studies, Director of the Folklore Archives, and a Ph.D. Candidate in the Department of English. Cassie's dissertation explores the intersections of Folklore Studies, Appalachian Studies and Literacy Studies to examine the ways in which Ohio State students from Appalachian Ohio position themselves in relation to different concepts of home.
Krista Bryson is a PhD Candidate in the Rhetoric, Composition and Literacy Program in OSU's Department of English. She is a native West Virginian and received her B.A. and M.A. from Marshall University in Huntington, West Virginia. She is Co-director of The Appalachian Project and Co-chair of the Literacy in Appalachia GradGroup, an initiative of LiteracyStudies@OSU. Her publications include "The Literacy Myth in the Digital Archive of Literacy Narratives" in Computers and Composition and "Emancipating Adult Illiterates: Conflicted Rhetorics of Identity in the Kentucky Moonlight Schools," a chapter in the forthcoming collection Re-Reading Appalachia: Literacies of Resistance, edited by Kim Donehower and Sara Webb-Sunderhaus.
OSU Graduate & Undergraduate Researchers:
Amanda Baker (Education)
Calvin Beckley (International Studies & Italian) is from McArthur, Oh, in Vinton County. Calvin is interested in being on the team so that he can use his personal experience to contribute to research on Appalachia. Calvin's goal for the future is to find ways to help the people from Appalachian communities that face the same sort of obstacles that he had to face.
Jessica Brunney (Communication)
Raven Lynch is a Psychology major and Forensic Ccience minor at Ohio State. She is from Ross County. In high school, Raven did not know she was Appalachian or that that was a minority group. With new knowledge about the region, she is looking at issues back home in a new light, things that she thought nothing of when she still lived there. Raven is interested in The Appalachian Project because she feels like it brings awareness to the issues people living in Appalachian counties face, things that are considered normal there, and shouldn't be.
Leslie Minney (International Studies & Anthropology)
Kimberly Moore (Social Work)
Lucy Ramos (Office of Academic Affairs, Public Health)
Madeline Stockwell (International Poverty Solutions Collaborative, International Studies)
Brooke Walters (International Studies, Political Science) will graduate in SP14 with majors in Political Science and International Studies and minors in English and Asian American Studies. She originally joined The Appalachian Project because she is from the region. In her time with the project, she has cultivated a deeper understanding of her lived experience: it is both unique from other Ohio regions but incredibly similar to that of other Appalachians. Brooke hopes to continue her advocacy through public policy that positively influences education and quality of life for Appalachian residents.
Non-OSU Researchers:
Kaylyn Joey (Independent Researcher) is from East Palestine in Columbiana County, OH. Kaylyn is a graduate of The Ohio State University with a focus in Psychology and Occupational Therapy. She is proud to be a part of The Appalachian Project, a group whose ultimate goal relates to empowering individuals from the region. Kaylyn hopes to utilize the passion she have developed for this population in her future career of Occupational Therapy.
Megan Elizabeth Adams is a Ph.D. student studying rhetoric and composition at Bowling Green State University. Prior to pursuing more academic endeavors, Megan was a one-man-reporter at a television station in Lima, Ohio. For dissertation research, Megan is studying the impact of a digital storytelling project in McDowell County, West Virginia. She is eager to lend her hand helping with video production on The Appalachian Project, and to assist members in working to collect and share the stories of Ohio Appalachians. She is from Warren, Ohio in Trumbull County.
Past Researchers:
Chanel Ellison (B.S. 2013, Sociology, Ohio State University)
Jon Fish (B.S. 2012, Business, Ohio State university; currently attending Brandeis International Business School)
Mason Pierce (B.S. 2012, Economics, Ohio State University; currently studying Economics at West Virginia University)
Erik Stewart (B.A. 2013, Philosophy, Ohio State University)
Project Documents, Resources, and Links
For more information about The Appalachian Project, view our behind-the-scenes video on YouTube.