Congratulations to the 2014 Mullen and Barnes Prize winners!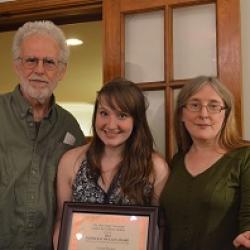 On April 26 at the Center for Folklore Studies end-of-year potluck, Patrick Mullen presented our annual student paper prizes: the Patrick B. Mullen Prize for Best Graduate Student Paper and the brand-new Daniel R. Barnes Prize for Best Undergraduate Paper. The judges expressed their pleasure at the variety of both topics and analytical approaches in the papers. Here are their comments on the winners:
Mullen Prize for Best Graduate Student Paper
Cassie Bower's "Many Thanks from Me, Greyhound, and My Ex-Wife: Assessing Authority and Navigating Divisions in Bus Drivers' Announcements," which was originally prepared as a seminar paper for Ray Cashman's SP13 course in Ethnography of Communication. The paper was revised for a presentation at the American Folklore Society's 2013 annual meeting.
This paper showed significant promise. The subject matter of the analysis was clearly relevant to a spectrum of broader important issues—workplace safety, working conditions in relation to rules & regulations and their negotiation, and especially the question of what it means for employees and customers to interact (while the "owners" invisibly make money from these interactions "at a safe distance" from them). It has the potential to contribute to any number of ongoing debates surrounding, for example, the growing gap between rich and poor, or changing working conditions under neoliberalism and "flexible capitalism." The interpretation of bus-driver "announcements" thus served as more than an appropriate application of Bauman and such, but as an important demonstration of their applicability to trying to understand nuances of the social process in context.
Additionally, the particular combination of content, fieldwork, theoretical approach seemed happily consonant with a prize in the name of Pat Mullen.
Barnes Prize for Best Undergraduate Student Paper
Adam Carl's "Shaping and Struggling: Feminine Agency in Pre-Christian Scandinavia," which was prepared as an undergraduate thesis (with research distinction) in Folklore within the Department of Comparative Studies.
"Shaping and Struggling: Feminine Agency in Pre-Christian Scandinavia" does an excellent job of showing mastery not only of the primary texts (the sagas themselves), but also of Norse mythology more broadly, as well as a deep understanding of various critical and theoretical approaches to this material, especially in terms of gender. The connections to folklore are clear, and the writer makes an interesting case about what the sagas might tell us about real-life gender roles and relations at this historical moment. The paper shows thorough original research and analysis, sophisticated language use and is of publishable quality. In addition, this essay reflects Dan Barnes's scholarly interests: it touches on medieval folklore and its connections to literature and cultural history, all things that his work was interested in.
And two honorable mentions:

Shelby Reimer's "The City Slickers Go Snipe Hunting: A Rite of Passage" (for Danille Christensen's English 2270, Intro to Folklore)
Ryan Johnson's "Zines, the Vernacular, and Transience" (for Dorry Noyes' Comp Studies 5957.02, Cultures of Waste and Recycling)
Congratulations to Cassie and Adam, Shelby and Ryan!
We are very grateful to our alumni who served as judges:

Kevin Eyster (Madonna University), and

Elizabeth MacDaniel (Clarion University of Pennsylvania) for the Mullen Prize.