Congratulations, Dr. Kate Horigan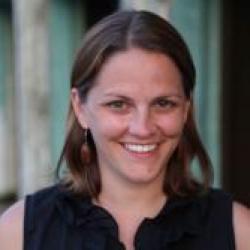 Kate Horigan (PhD, English 2013), currently Visiting Lecturer at the Folklore Institute at Indiana University, will become Assistant Professor in the Department of Folk Studies and Anthropology at Western Kentucky University, joining earlier OSU alum Ann Ferrell in another thriving program. Kate's experience in considering folklore as an instrument of trauma diagnosis and recovery will contribute to WKU's programmatic focus in applied folklore.
In addition, Dr. Horigan's dissertation, "'They probably got us all on the news'": Personal Narratives and Public Trauma in Post-Katrina New Orleans," has won this year's Muste Award for the best dissertation in English at OSU. Her dissertation stood out among many excellent entries owing to its important subject matter, fine writing, and engaging intellectual analyses. The award carries with it $1000 in prize money. Kate will be recognized at the English Awards Ceremony on April 21st.