More end-of-year kudos!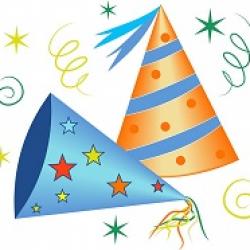 Several folklorists were honored in year-end departmental celebrations:
At the Department of Comparative Studies Awards ceremony:
Katey Borland received the student-chosen Margaret Lynd Faculty Teaching Award.
Cristina Benedetti won the Graduate Paper Prize for a paper she wrote for Dorry's "Cultures of Waste and Recycling": "Protest, Performance, Politics, and Port-A-Potties: A Preliminary Look into Public Gathering Logistics for the 1963 March on Washington for Jobs and Freedom."
In the Department of English, folklorists and fellow travellers were honored:
Adam Carl won the Rosemarie Sena Scholarship in English as well as the award for best poster in the department's Undergraduate Poster Forum. Like his adviser Merrill Kaplan, Adam will head to Berkeley in the fall to do PhD work in Scandinavian Studies.
John Moe was elected Auxiliary Faculty of the Year by the English Undergraduate Organization.
Kate Horigan was honored with the Muste Prize for best dissertation in English
Amy Shuman was recognized for her recent Distinguished Diversity Enhancement Award.
And Krista Bryson received both the Corbett Dissertation Fellowship and the Digital Media Prize for Outstanding Graduate Work; Andrew Richmond won a University Fellowship for his dissertation work; and Maryna Matlock won the Award for Excellence in Teaching by a First-Year GTA.