Student Association
Folklore Student Association Mission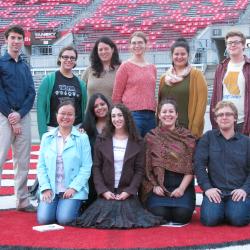 It is often difficult for those pursuing folklore scholarship to find other students with similar interests. We are primarily interested in aiding the professional development of folklorists and others doing scholarship in folklore, ethnography, performance, and cultural studies. To this end, by sponsoring a series of workshops, lectures, and roundtable discussions to bring people together, the Folklore Student Association will provide the mechanism through which we can address topics such as research methods, job opportunities, grant writing, publication in academic journals, dissertation/thesis development, and conference presentations. In addition, we are interested in fostering the community of folklorists at Ohio State.

FSA exists to build a productive academic environment around our agenda for the OSU community. We trust a spirited collectivity will emerge from this effort to energize and mobilize the resources of folklorists across the disciplines, across the campus, across the state, and across the world.
We invite all undergraduate and graduate students interested in folklore at Ohio State to become members of FSA. Please feel free to contact any of our officers regarding meeting and membership information:
To learn more about Folklore Student Association activities, subscribe to our listserv, Studentfolk. To join, visit https://lists.service.ohio-state.edu/mailman/listinfo/studentfolk, fill out the form with your information, and click "subscribe."
Officers and Committee Members:
FSA Executive Committee:
Involvement and Meetings
All graduate and undergraduate students interested in folklore are encouraged to get to know and become members of the OSU Folklore Student Association (FSA). FSA is a great way to meet others with similar interests, to learn about folklore and folklore-related activities on campus, and to support the community of folklorists at Ohio State.

FSA meets twice a month at the Center for Folklore Studies Archives in 218 Ohio Union. Please check the Calendar of Events to see our regularly scheduled meetings. Anyone interested is invited to attend. If you are unable to come but would like to take an active interest in the Folklore Student Association, please contact one of the officers, listed above.
Joint Student Conference
Each year since 2008, the Ohio State University Folklore Student Association has collaborated with the Folklore and Ethnomusicology Student Associations to produce a joint folklore and ethnomusicology conference. In previous years, presenters have come from over fifteen different universities, including Arizona State, Ball State University, Florida Atlantic University, Northern Illinois University, UCLA, University of Missouri, University of Tennessee, Western Kentucky University, West Virginia University, Memorial University of Newfoundland, Jyväskylä University in Finland, and University of Tartu in Estonia.
Undergraduate Student Symposium
Each year, the FSA sponsors the Folklore Undergraduate Student Symposium, typically held during spring quarter. The very best folklore student papers are presenting with interesting discussion and commentary led by OSU alumni and faculty.
Amy Shuman Joke Award
Beginning in 2006, The OSU Folklore Student Association has sponsored an annual Amy Shuman Joke Award, given to the person who submits the best response to a joke prompt for that year. The winner is chosen by a popular vote among the attendees at the annual picnic. Please consider submitting your response to the prompt, especially if you plan on attending the spring barbeque.