Welcome!
OSU Grads Get Tenure-Track Jobs in Folklore!
Ben Gatling (PhD, NELC 2012), currently a post-doc in the Thompson Writing Program at Duke University, will be starting in the fall as Assistant Professor in the Department of English at George Mason University, where he'll bring his grasp of the ethnography of communication, folk narrative, vernacular religion, and Central Asian oral traditions to their burgeoning folklore program.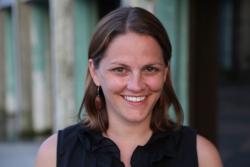 Kate Horigan (PhD, English 2013), currently Visiting Lecturer at the Folklore Institute at Indiana University, will become Assistant Professor in the Department of Folk Studies and Anthropology at Western Kentucky University, joining earlier OSU alum Ann Ferrell in another thriving program. Kate's experience in considering folklore as an instrument of trauma diagnosis and recovery will contribute to WKU's programmatic focus in applied folklore.