Image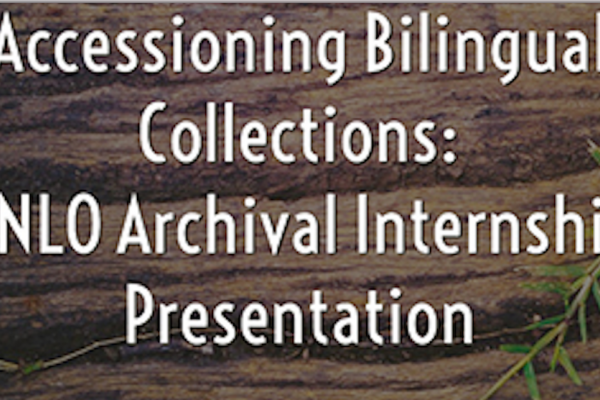 December 2, 2020
11:30AM - 12:30PM
Location
Zoom (registration required)
Date Range
Add to Calendar
2020-12-02 11:30:00
2020-12-02 12:30:00
Archiving Bilingual Collections: ONLO Archival Internship Presentation
Join the Oral Narratives of Latin@s (ONLO) in Ohio Archival Internship team for a presentation about their service-learning work this fall semester! Students in Profe Elena Foulis' Spanish in Ohio course accessioned photographs, videos, and audio recordings from the ONLO Collection housed in the Folklore Archives, creating a bilingual finding aid that makes the collection more accessible to researchers and community partners.  Register in advance for this meeting: https://osu.zoom.us/meeting/register/tJcocO2uqD8iEtBAcctMV32LerGk3vPNm8Rc  After registering, you will receive a confirmation email containing information about joining the meeting. Presenters: Emma Berlin, Senior in the College of Education and Human Ecology w/ double majors in Spanish and World Language Education Kenzie Coyne (she/her/hers), Senior double majoring in Biology and Spanish Brandon D'Souza (he/him/his), Fourth-year Majoring in Biology, Evolution and Ecology and Spanish, Minoring in Film Studies Dr. Elena Foulis (she/her/hers), Senior Lecturer, Department of Spanish and Portuguese Dr. Cassie Patterson (she/her/hers), Director, Folklore Archives, Center for Folklore Studies Armando Roman (he/him/his), Second-year MFA student in Photography in the Department of Art Ember Zaahir, Fourth-year double majoring in Anthropology and Spanish
Zoom (registration required)
OSU ASC Drupal 8
ascwebservices@osu.edu
America/New_York
public
Date Range
Add to Calendar
2020-12-02 11:30:00
2020-12-02 12:30:00
Archiving Bilingual Collections: ONLO Archival Internship Presentation
Join the Oral Narratives of Latin@s (ONLO) in Ohio Archival Internship team for a presentation about their service-learning work this fall semester! Students in Profe Elena Foulis' Spanish in Ohio course accessioned photographs, videos, and audio recordings from the ONLO Collection housed in the Folklore Archives, creating a bilingual finding aid that makes the collection more accessible to researchers and community partners.  Register in advance for this meeting: https://osu.zoom.us/meeting/register/tJcocO2uqD8iEtBAcctMV32LerGk3vPNm8Rc  After registering, you will receive a confirmation email containing information about joining the meeting. Presenters: Emma Berlin, Senior in the College of Education and Human Ecology w/ double majors in Spanish and World Language Education Kenzie Coyne (she/her/hers), Senior double majoring in Biology and Spanish Brandon D'Souza (he/him/his), Fourth-year Majoring in Biology, Evolution and Ecology and Spanish, Minoring in Film Studies Dr. Elena Foulis (she/her/hers), Senior Lecturer, Department of Spanish and Portuguese Dr. Cassie Patterson (she/her/hers), Director, Folklore Archives, Center for Folklore Studies Armando Roman (he/him/his), Second-year MFA student in Photography in the Department of Art Ember Zaahir, Fourth-year double majoring in Anthropology and Spanish
Zoom (registration required)
Center for Folklore Studies
patterson.493@osu.edu
America/New_York
public
Description
Join the Oral Narratives of Latin@s (ONLO) in Ohio Archival Internship team for a presentation about their service-learning work this fall semester! Students in Profe Elena Foulis' Spanish in Ohio course accessioned photographs, videos, and audio recordings from the ONLO Collection housed in the Folklore Archives, creating a bilingual finding aid that makes the collection more accessible to researchers and community partners. 
Register in advance for this meeting:
https://osu.zoom.us/meeting/register/tJcocO2uqD8iEtBAcctMV32LerGk3vPNm8Rc 
After registering, you will receive a confirmation email containing information about joining the meeting.
Presenters:
Emma Berlin, Senior in the College of Education and Human Ecology w/ double majors in Spanish and World Language Education
Kenzie Coyne (she/her/hers), Senior double majoring in Biology and Spanish
Brandon D'Souza (he/him/his), Fourth-year Majoring in Biology, Evolution and Ecology and Spanish, Minoring in Film Studies
Dr. Elena Foulis (she/her/hers), Senior Lecturer, Department of Spanish and Portuguese
Dr. Cassie Patterson (she/her/hers), Director, Folklore Archives, Center for Folklore Studies
Armando Roman (he/him/his), Second-year MFA student in Photography in the Department of Art
Ember Zaahir, Fourth-year double majoring in Anthropology and Spanish
---