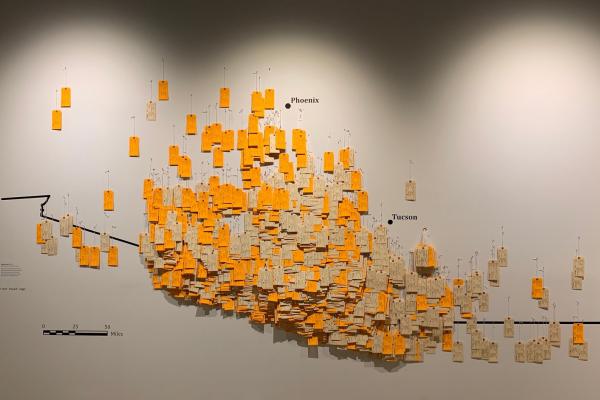 April 12 - April 16, 2021
8:00AM - 6:00PM
Add to Calendar
2021-04-12 07:00:00
2021-04-16 17:00:00
Bringing the Border to Columbus: A Virtual Symposium
Almost 2000 miles from the U.S. – Mexico border, OSU and the greater Columbus community may seem distanced from the politics of the borderlands. Yet, we are greatly impacted by these politics in many ways, and members of our community live in borderlands right here in Ohio.  At this symposium, academics, activists, artists, and community members are teaming up to bring to light how the policies enacted in these borderlands have direct impacts on the lives of our immigrant neighbors, colleagues, family members, friends, and those who must reside under the protection of sanctuary.   We will use art and scholarship to interrogate the politics of south-to-north migrations in the U.S. – Mexico borderlands, and the deaths and disappearances that result from U.S. immigration policies.   Keynote SpeakerRobin Reineke (Assistant Research Social Scientist at the Southwest Center, The University of Arizona)Re-Membering the Missing and Dead Along the U.S.-Mexico BorderFriday, April 16th 4:30-6pm To view and register for symposium events, visit the project website:  https://u.osu.edu/bringingthebordertocolumbus/events/   Events Schedule Hostile Terrain 94 (Ht94): Art Installation (OSU Hopkins Hall Gallery) 11 :00 am-4:00 pm Available from Monday, April 12 Through Friday, April 16 Online anytime: Stream Documentary Film: Border South Monday, April 12 10:00 am Opening Ceremony: Coffee and Conversation 1 :30-3:00 pm: On Board(Hers) Goes Global: Presentation and Workshop Tuesday, April 13 12:30-2:30 pm: Borderlands in Columbus: Sanctuary Roundtable and Fundraiser Wednesday, April 14 10:00-11 :30 am: Workshop in Creative Self Care for Community Leaders 2:00-3:30 pm: The Human Cost of Immigration Policy: Conversation with Douglas Massey 4:00-5:00 pm: Performance/ Borderlands: Embodied Futurism and Surrealism Thursday, April 15 11 :00am-12:15 pm: Undocumented Americans: Conversation with Karla Cornejo Villavicencio 2:00-3:30 pm: Art and Ac Tivism: Conversation With Tanya Aguiniga And Jackie Amezquita Friday, April 16 1 :00-2:30 pm: Performing Ourselves, Performing Our Histories: Latinx Stories of a Pandemia 4:30-6:00 pm: Keynote by Robin Reineke: Re-membering The Missing And Dead Along the US-Mexico Border FREE AND OPEN TO THE PUBLIC Funded by a grant from the Global Arts + Humanities Discovery Theme  Co-sponsored by: The Latina/o Studies Program, The Center for Folklore Studies, Urban Arts Space  Co-Organized by Victor Espinosa and Danielle Schoon  If you have questions or require an accommodation such as live captioning or interpretation to participate in "Bringing the Border to Columbus" events, please contact Event Coordinator, Melissa Rodriguez. Requests made two weeks before any individual event date will generally allow us to provide seamless access, but the university will make every effort to meet requests made after this date.  Learn more: Bringing the Border to Columbus
Zoom
OSU ASC Drupal 8
ascwebservices@osu.edu
America/New_York
public
Date Range
Add to Calendar
2021-04-12 08:00:00
2021-04-16 18:00:00
Bringing the Border to Columbus: A Virtual Symposium
Almost 2000 miles from the U.S. – Mexico border, OSU and the greater Columbus community may seem distanced from the politics of the borderlands. Yet, we are greatly impacted by these politics in many ways, and members of our community live in borderlands right here in Ohio.  At this symposium, academics, activists, artists, and community members are teaming up to bring to light how the policies enacted in these borderlands have direct impacts on the lives of our immigrant neighbors, colleagues, family members, friends, and those who must reside under the protection of sanctuary.   We will use art and scholarship to interrogate the politics of south-to-north migrations in the U.S. – Mexico borderlands, and the deaths and disappearances that result from U.S. immigration policies.   Keynote Speaker Robin Reineke (Assistant Research Social Scientist at the Southwest Center, The University of Arizona) Re-Membering the Missing and Dead Along the U.S.-Mexico Border Friday, April 16th 4:30-6pm To view and register for symposium events, visit the project website:  https://u.osu.edu/bringingthebordertocolumbus/events/   Events Schedule Hostile Terrain 94 (Ht94): Art Installation (OSU Hopkins Hall Gallery) 11 :00 am-4:00 pm Available from Monday, April 12 Through Friday, April 16 Online anytime: Stream Documentary Film: Border South Monday, April 12 10:00 am Opening Ceremony: Coffee and Conversation 1 :30-3:00 pm: On Board(Hers) Goes Global: Presentation and Workshop Tuesday, April 13 12:30-2:30 pm: Borderlands in Columbus: Sanctuary Roundtable and Fundraiser Wednesday, April 14 10:00-11 :30 am: Workshop in Creative Self Care for Community Leaders 2:00-3:30 pm: The Human Cost of Immigration Policy: Conversation with Douglas Massey 4:00-5:00 pm: Performance/ Borderlands: Embodied Futurism and Surrealism Thursday, April 15 11 :00am-12:15 pm: Undocumented Americans: Conversation with Karla Cornejo Villavicencio 2:00-3:30 pm: Art and Ac Tivism: Conversation With Tanya Aguiniga And Jackie Amezquita Friday, April 16 1 :00-2:30 pm: Performing Ourselves, Performing Our Histories: Latinx Stories of a Pandemia 4:30-6:00 pm: Keynote by Robin Reineke: Re-membering The Missing And Dead Along the US-Mexico Border FREE AND OPEN TO THE PUBLIC Funded by a grant from the Global Arts + Humanities Discovery Theme  Co-sponsored by: The Latina/o Studies Program, The Center for Folklore Studies, Urban Arts Space  Co-Organized by Victor Espinosa and Danielle Schoon  If you have questions or require an accommodation such as live captioning or interpretation to participate in "Bringing the Border to Columbus" events, please contact Event Coordinator, Melissa Rodriguez. Requests made two weeks before any individual event date will generally allow us to provide seamless access, but the university will make every effort to meet requests made after this date.  Learn more: Bringing the Border to Columbus
Zoom
Center for Folklore Studies
cfs@osu.edu
America/New_York
public
Almost 2000 miles from the U.S. – Mexico border, OSU and the greater Columbus community may seem distanced from the politics of the borderlands. Yet, we are greatly impacted by these politics in many ways, and members of our community live in borderlands right here in Ohio. 
At this symposium, academics, activists, artists, and community members are teaming up to bring to light how the policies enacted in these borderlands have direct impacts on the lives of our immigrant neighbors, colleagues, family members, friends, and those who must reside under the protection of sanctuary.  
We will use art and scholarship to interrogate the politics of south-to-north migrations in the U.S. – Mexico borderlands, and the deaths and disappearances that result from U.S. immigration policies.  
Keynote Speaker
Robin Reineke (Assistant Research Social Scientist at the Southwest Center, The University of Arizona)
Re-Membering the Missing and Dead Along the U.S.-Mexico Border
Friday, April 16th 4:30-6pm
To view and register for symposium events, visit the project website:  https://u.osu.edu/bringingthebordertocolumbus/events/
Events Schedule
Hostile Terrain 94 (Ht94): Art Installation (OSU Hopkins Hall Gallery)
11 :00 am-4:00 pm Available from Monday, April 12 Through Friday, April 16
Online anytime: Stream Documentary Film: Border South
Monday, April 12
10:00 am Opening Ceremony: Coffee and Conversation
1 :30-3:00 pm: On Board(Hers) Goes Global: Presentation and Workshop
Tuesday, April 13
12:30-2:30 pm: Borderlands in Columbus: Sanctuary Roundtable and Fundraiser
Wednesday, April 14
10:00-11 :30 am: Workshop in Creative Self Care for Community Leaders
2:00-3:30 pm: The Human Cost of Immigration Policy: Conversation with Douglas Massey
4:00-5:00 pm: Performance/ Borderlands: Embodied Futurism and Surrealism
Thursday, April 15
11 :00am-12:15 pm: Undocumented Americans: Conversation with Karla Cornejo Villavicencio
2:00-3:30 pm: Art and Ac Tivism: Conversation With Tanya Aguiniga And Jackie Amezquita
Friday, April 16
1 :00-2:30 pm: Performing Ourselves, Performing Our Histories: Latinx Stories of a Pandemia
4:30-6:00 pm: Keynote by Robin Reineke: Re-membering The Missing And
Dead Along the US-Mexico Border
---
FREE AND OPEN TO THE PUBLIC
Funded by a grant from the Global Arts + Humanities Discovery Theme 
Co-sponsored by: The Latina/o Studies Program, The Center for Folklore Studies, Urban Arts Space 
Co-Organized by Victor Espinosa and Danielle Schoon 
If you have questions or require an accommodation such as live captioning or interpretation to participate in "Bringing the Border to Columbus" events, please contact Event Coordinator, Melissa Rodriguez. Requests made two weeks before any individual event date will generally allow us to provide seamless access, but the university will make every effort to meet requests made after this date. 
Learn more: Bringing the Border to Columbus
---