Image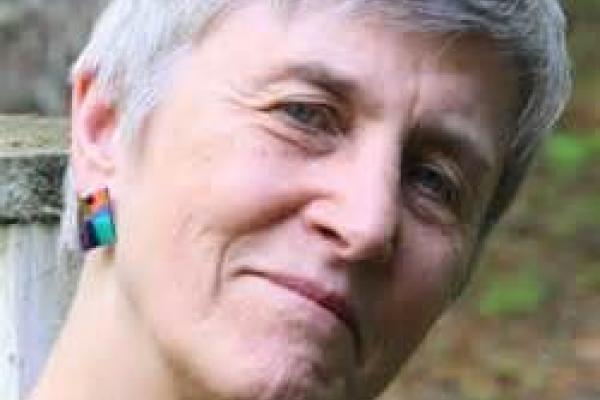 May 19, 2016
6:00PM - 8:00PM
Location
Traditions Room, Ohio Union
Date Range
Add to Calendar
2016-05-19 18:00:00
2016-05-19 20:00:00
Burnt Into Memory w/ Jo Radner
 Co-sponsored by the Folklore Student Association and the Barnett Center for Integrated Arts and Enterpriseand supported by the Humanities and the Arts Discovery Theme Mobile Coffee Series Join the Center for Folklore Studies and the Midwest Folklorists Retreat for a special perfrormance by folklorist and storyteller, Jo Radner, who will offer a public performance of Burnt into Memory, a story based on oral history research into the devastating 1947 fire in Brownfield, Maine. Jo Radner is a storyteller, folklorist, oral historian, teacher and performance coach based in Lovell, Maine. Her mission is to "call forth and tell stories that honor the past and delight in the present." She teaches storytelling to teachers in Lesley University's Creative Arts in Learning M.A. Program and conducts workshops for adults on creative storytelling, finding and telling personal and family stories, creating stories from history, and (especially for caregivers) on helping others tell and value their own stories. Her CD, Yankee Ingenuity: Stories of Headstrong and Resourceful People, received a 2013 Storytelling World Award, and in April 2013 she was awarded the Brother Blue and Ruth Hill Award from the League for the Advancement of New England Storytelling. She is past president of the Washington D.C. Storytellers Theatre and the National Storytelling Network and serves on the Board of Directors of the League for the Advancement of New England Storytelling.For those who are interested in attending more of the Midwest Folklorists Retreat and hearing more from Jo, she will also lead our group in a professional development session on putting the oral back in oral presentations.  Jo will also lead a workshop for students on interviewing for story. During the retreat, students (and other interested volunteeres) will conduct professional life reviews with retreat attendees, which will be deposited at the CFS Archives. Additionally, CFS is collaborating with the Barnett Center for Integrated Arts and Enterprise, the James Preston Poindexter Foundation, Maroon Arts Group, and the King Arts Complex-longstanding cornerstones of African American communities living in and around Columbus' East Side--to develop tours and workshops centered around topics of race, class, gender, place, space, community, neighborhood, art, city planning, and economics.This event is free and open to the public. RSVP to Afsane at rezaeisahraei.1@osu.edu. If you require assistance to attend this event, please email rezaeisahraei.1@osu.edu.
Special note for studentsWe are coordinating a 1-credit Maymester/independent study course that will involve (1) attending a workshop on interviewing for story with Radner on May 18th, (2) interviewing experienced public folklorists on May 20th, and (3) attending Radner's performance on May 19th. Indicate your interest for this course on your pre-registration form or by emailing Cassie at patterson.493@osu.edu.Course registration numbers: Undergraduate: COMPSTD 4193-001 (#17821)Graduate: COMPSTD 7193-001 (#17822)
Traditions Room, Ohio Union
OSU ASC Drupal 8
ascwebservices@osu.edu
America/New_York
public
Date Range
Add to Calendar
2016-05-19 18:00:00
2016-05-19 20:00:00
Burnt Into Memory w/ Jo Radner
 Co-sponsored by the Folklore Student Association and the Barnett Center for Integrated Arts and Enterpriseand supported by the Humanities and the Arts Discovery Theme Mobile Coffee Series Join the Center for Folklore Studies and the Midwest Folklorists Retreat for a special perfrormance by folklorist and storyteller, Jo Radner, who will offer a public performance of Burnt into Memory, a story based on oral history research into the devastating 1947 fire in Brownfield, Maine. Jo Radner is a storyteller, folklorist, oral historian, teacher and performance coach based in Lovell, Maine. Her mission is to "call forth and tell stories that honor the past and delight in the present." She teaches storytelling to teachers in Lesley University's Creative Arts in Learning M.A. Program and conducts workshops for adults on creative storytelling, finding and telling personal and family stories, creating stories from history, and (especially for caregivers) on helping others tell and value their own stories. Her CD, Yankee Ingenuity: Stories of Headstrong and Resourceful People, received a 2013 Storytelling World Award, and in April 2013 she was awarded the Brother Blue and Ruth Hill Award from the League for the Advancement of New England Storytelling. She is past president of the Washington D.C. Storytellers Theatre and the National Storytelling Network and serves on the Board of Directors of the League for the Advancement of New England Storytelling.For those who are interested in attending more of the Midwest Folklorists Retreat and hearing more from Jo, she will also lead our group in a professional development session on putting the oral back in oral presentations.  Jo will also lead a workshop for students on interviewing for story. During the retreat, students (and other interested volunteeres) will conduct professional life reviews with retreat attendees, which will be deposited at the CFS Archives. Additionally, CFS is collaborating with the Barnett Center for Integrated Arts and Enterprise, the James Preston Poindexter Foundation, Maroon Arts Group, and the King Arts Complex-longstanding cornerstones of African American communities living in and around Columbus' East Side--to develop tours and workshops centered around topics of race, class, gender, place, space, community, neighborhood, art, city planning, and economics.This event is free and open to the public. RSVP to Afsane at rezaeisahraei.1@osu.edu. If you require assistance to attend this event, please email rezaeisahraei.1@osu.edu.
Special note for studentsWe are coordinating a 1-credit Maymester/independent study course that will involve (1) attending a workshop on interviewing for story with Radner on May 18th, (2) interviewing experienced public folklorists on May 20th, and (3) attending Radner's performance on May 19th. Indicate your interest for this course on your pre-registration form or by emailing Cassie at patterson.493@osu.edu.Course registration numbers: Undergraduate: COMPSTD 4193-001 (#17821)Graduate: COMPSTD 7193-001 (#17822)
Traditions Room, Ohio Union
Center for Folklore Studies
patterson.493@osu.edu
America/New_York
public
Description
 Co-sponsored by the Folklore Student Association and the Barnett Center for Integrated Arts and Enterprise
and supported by the Humanities and the Arts Discovery Theme Mobile Coffee Series
 
Join the Center for Folklore Studies and the Midwest Folklorists Retreat for a special perfrormance by folklorist and storyteller, Jo Radner, who will offer a public performance of Burnt into Memory, a story based on oral history research into the devastating 1947 fire in Brownfield, Maine.
Jo Radner is a storyteller, folklorist, oral historian, teacher and performance coach based in Lovell, Maine. Her mission is to "call forth and tell stories that honor the past and delight in the present." She teaches storytelling to teachers in Lesley University's Creative Arts in Learning M.A. Program and conducts workshops for adults on creative storytelling, finding and telling personal and family stories, creating stories from history, and (especially for caregivers) on helping others tell and value their own stories. Her CD, Yankee Ingenuity: Stories of Headstrong and Resourceful People, received a 2013 Storytelling World Award, and in April 2013 she was awarded the Brother Blue and Ruth Hill Award from the League for the Advancement of New England Storytelling. She is past president of the Washington D.C. Storytellers Theatre and the National Storytelling Network and serves on the Board of Directors of the League for the Advancement of New England Storytelling.
For those who are interested in attending more of the Midwest Folklorists Retreat and hearing more from Jo, she will also lead our group in a professional development session on putting the oral back in oral presentations.  Jo will also lead a workshop for students on interviewing for story. During the retreat, students (and other interested volunteeres) will conduct professional life reviews with retreat attendees, which will be deposited at the CFS Archives. Additionally, CFS is collaborating with the Barnett Center for Integrated Arts and Enterprise, the James Preston Poindexter Foundation, Maroon Arts Group, and the King Arts Complex-longstanding cornerstones of African American communities living in and around Columbus' East Side--to develop tours and workshops centered around topics of race, class, gender, place, space, community, neighborhood, art, city planning, and economics.
This event is free and open to the public. RSVP to Afsane at rezaeisahraei.1@osu.edu.
If you require assistance to attend this event, please email rezaeisahraei.1@osu.edu.

Special note for students
We are coordinating a 1-credit Maymester/independent study course that will involve (1) attending a workshop on interviewing for story with Radner on May 18th, (2) interviewing experienced public folklorists on May 20th, and (3) attending Radner's performance on May 19th. Indicate your interest for this course on your pre-registration form or by emailing Cassie at patterson.493@osu.edu.
Course registration numbers: 
Undergraduate: COMPSTD 4193-001 (#17821)
Graduate: COMPSTD 7193-001 (#17822)
---