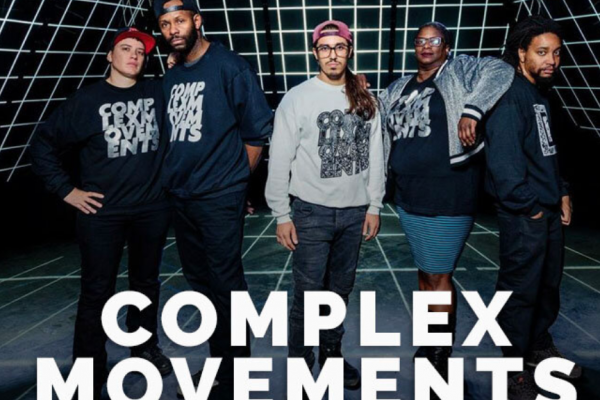 October 25, 2019
5:00PM - 6:30PM
ACCAD 332 Sullivant Hall, 1813 North High Street
Add to Calendar
2019-10-25 16:00:00
2019-10-25 17:30:00
Complex Movements: Reading Room
The Center for Folklore Studies is co-sponsoring Livable Futures' residency with Complex Movements. Join us as we get ready to welcome Complex Movements for a Creative Residency. In advance of their arrival, we will screen a short film about Complex Movements' recent project Beware of the Dandelions and discuss excerpts from adrienne maree brown's Emergent Strategy. Free and open to the public. Food and refreshments provided. Visit the Livable Futures website to RSVP.ABOUT Complex Movements:Livable Futures is hosting Detroit-based art and media collective Complex Movements for a creative residency at OSU October 27-November 3, 2019.Complex Movements is a Detroit-based artist collective supporting the transformation of communities by exploring the connections of complex science and social justice movements through multimedia interactive performance work. Their creative projects are inspired by the writings, philosophy and experience of Detroit-based activist Grace Lee Boggs (1915-2015), as well as grassroots networks in Detroit. The collective engages communities to expand their strategies for organizing around local and trans-local social justice issues.Beware of the Dandelions mobile installation | Photo credit: Doug Coombe" id="yui_3_17_2_1_1571156142504_99">Beware of the Dandelions mobile installation | Photo credit: Doug CoombeBeware of the Dandelions is a mobile art installation that functions as a performance, workshop space, and visual arts exhibition. The piece intersects disciplines including: community organizing, design, hip-hop and electronic music, architecture, and theater. The experience occurs inside a 400 square foot polyhedron dome-like pod structure. The performance and generative design are projected onto the surface of the pod to create an immersive visual and sound experience that incorporates science-fiction, projections, songs, and interactive game elements. For more information, visit emergencemedia.org 
ACCAD 332 Sullivant Hall, 1813 North High Street
OSU ASC Drupal 8
ascwebservices@osu.edu
America/New_York
public
Date Range
Add to Calendar
2019-10-25 17:00:00
2019-10-25 18:30:00
Complex Movements: Reading Room
The Center for Folklore Studies is co-sponsoring Livable Futures' residency with Complex Movements. Join us as we get ready to welcome Complex Movements for a Creative Residency. In advance of their arrival, we will screen a short film about Complex Movements' recent project Beware of the Dandelions and discuss excerpts from adrienne maree brown's Emergent Strategy. Free and open to the public. Food and refreshments provided. Visit the Livable Futures website to RSVP.ABOUT Complex Movements:Livable Futures is hosting Detroit-based art and media collective Complex Movements for a creative residency at OSU October 27-November 3, 2019.Complex Movements is a Detroit-based artist collective supporting the transformation of communities by exploring the connections of complex science and social justice movements through multimedia interactive performance work. Their creative projects are inspired by the writings, philosophy and experience of Detroit-based activist Grace Lee Boggs (1915-2015), as well as grassroots networks in Detroit. The collective engages communities to expand their strategies for organizing around local and trans-local social justice issues.Beware of the Dandelions mobile installation | Photo credit: Doug CoombeBeware of the Dandelions is a mobile art installation that functions as a performance, workshop space, and visual arts exhibition. The piece intersects disciplines including: community organizing, design, hip-hop and electronic music, architecture, and theater. The experience occurs inside a 400 square foot polyhedron dome-like pod structure. The performance and generative design are projected onto the surface of the pod to create an immersive visual and sound experience that incorporates science-fiction, projections, songs, and interactive game elements. For more information, visit emergencemedia.org 
ACCAD 332 Sullivant Hall, 1813 North High Street
Center for Folklore Studies
cfs@osu.edu
America/New_York
public
The Center for Folklore Studies is co-sponsoring Livable Futures' residency with Complex Movements. 
Join us as we get ready to welcome Complex Movements for a Creative Residency. In advance of their arrival, we will screen a short film about Complex Movements' recent project Beware of the Dandelions and discuss excerpts from adrienne maree brown's Emergent Strategy. Free and open to the public. Food and refreshments provided. Visit the Livable Futures website to RSVP.
ABOUT Complex Movements:
Livable Futures is hosting Detroit-based art and media collective Complex Movements for a creative residency at OSU October 27-November 3, 2019.
Complex Movements is a Detroit-based artist collective supporting the transformation of communities by exploring the connections of complex science and social justice movements through multimedia interactive performance work. Their creative projects are inspired by the writings, philosophy and experience of Detroit-based activist Grace Lee Boggs (1915-2015), as well as grassroots networks in Detroit. The collective engages communities to expand their strategies for organizing around local and trans-local social justice issues.
Beware of the Dandelions mobile installation | Photo credit: Doug Coombe" id="yui_3_17_2_1_1571156142504_99">
Beware of the Dandelions mobile installation | Photo credit: Doug Coombe
Beware of the Dandelions is a mobile art installation that functions as a performance, workshop space, and visual arts exhibition. The piece intersects disciplines including: community organizing, design, hip-hop and electronic music, architecture, and theater. The experience occurs inside a 400 square foot polyhedron dome-like pod structure. The performance and generative design are projected onto the surface of the pod to create an immersive visual and sound experience that incorporates science-fiction, projections, songs, and interactive game elements. 
For more information, visit emergencemedia.org
---