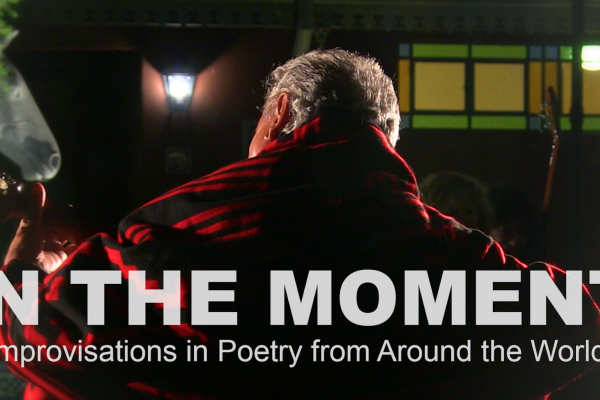 November 13, 2019
All Day
In the Moment: Poetry Duels and Improvisations from Around the World
by Steve Zeitlin and Amanda Dargan
In the Moment reveals a world of improvised poetry traditions and competitions, and explores their variety, commonalities, history, and complexity. The hour-long documentary introduces the viewers to payadores, emboladores, decimistas, extempo artists and more from Argentina, Uruguay, Canary Islands, Brazil, Portugal, Italy, Trinidad, the Basque region of Spain, Kazakhstan, and Kyrgystan as well as freestyle rap artists from the U.S. The film features charismatic poets and musicians who are masters of the art of improvisation, dueling with one another and commenting on the meaning of the traditions and of life itself in improvised rhymes. Performances and interviews with poets are interwoven throughout the film, giving the viewer an opportunity to learn about individual traditions through featured poets and to see the interconnections between the traditions.
In the Moment is directed and produced by folklorists and filmmakers Amanda Dargan and Steve Zeitlin.  Academy Award-winning filmmaker Paul Wagner serves as the Executive Producer. The film also draws on five acclaimed poets and scholars: Edward Hirsch (poet, folklorist, and director of the Guggenheim Foundation); Bob Holman (poet and producer for The United States of Poetry on PBS); the late professor John Foley (head of the Oral Traditions Program at the University of Missouri); Argentinians folklorist Ana Cara and Ercilia Moreno Cha. Among the highlights of the film are scenes shot by the filmmakers at the Festival de la Doma in Jesus Maria, Argentina, in which payadores improvise songs about each of the horse breaker riders. The film is the culmination of a 20-year documentation effort to chronicle these traditions beginning with filming done for the 1999, 2001, 2003 and 2006 People's Poetry Gatherings.
A panel discussion with filmmakers Steve Zeitlin and Amanda Dargan (from Citylore, NYC) and Ana Cara (Oberlin College) will follow the screening. This event is FREE and open to the public. Refreshments will be served.
The Folklore Student Association will also host a Meet-and-Greet event at the CFS Archives with the filmmakers in advance of the screening. Refreshments will be provided from 4:00-5:00pm.
This event is sponsored by: The Global Arts and Humanities Discovery Theme, The Department of English, The Department of Political Science, The Creative Writing Program of the Department of English, the Center for Folklore Studies, the International Studies program, the Folklore Student Association, and the Interdisciplinary Graduate Film Studies Group.
---