Image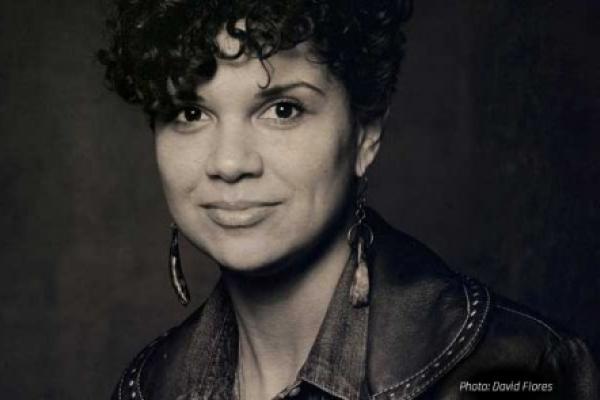 February 16, 2018
6:00PM - 7:30PM
Location
11th Floor, 305 Thompson Library, 1858 Neil Avenue, Columbus, OH 43210
Date Range
Add to Calendar
2018-02-16 19:00:00
2018-02-16 20:30:00
Performance & Workshop with Crystal Good
How do artists and writers affectively and critically engage diverse audiences through creative innovation? How might we approach art and performance's relationship with activism in our ever-digital world? How do new and emerging media forms change or enhance our relationship with artistic representations and activism? Crystal Good's performance will include a poetry reading that explores the intersections of environmental, economic, gender, language, and racial justice, especially as they exist in the Appalachian region. Because her work is invested in the interconnections of activism, creative writing, performance, and digital media, the performance will feature a unique assemblage that explores how writing and performance activism might arise in both the digital and physical world. Good will perform her poetry alongside mixed media representations of how art and performance might function as activism. The performance will affectively and critically engage with Good's innovation in how we approach art and performance and their relationship with activism in our ever-digital world. Following the reading, Good will host a dialogue where audience members will have an opportunity to engage the poet on her creative approaches and experiences.Crystal Good is a member of the Affrilachian Poets, a group of writers and artists whose creations and existence combat the erasure of African American identity in the Appalachian region, an Irene McKinney Scholar, and author of Valley Girl. She is the founder and CEO of Mixxed Media, a marketing and consulting firm that teaches media and engagement strategies to mission-driven organizations. She also works as an advocate for environment, education, and economic actions like industrial hemp, and she is creating a digital commons for voters to express their concerns through her self-made position of Social Media Senator for West Virginia. Crystal Good has spoken and read her poetry in Abu Dhabi, United Arab Emirates, at the West Virginia section of the Women's March on Washington, for the 2013 TEDx conference in Lewisburg, West Virginia, for the LouderARTS Project, for the Appalachian Mountain Advocates, and for students and scholars at several universities and colleges.  Workshop with Crystal GoodSaturday, February 1712:00pm - 3:00pmDenney Hall 311, 164 Annie and John Glenn Avenue, Columbus, OH 43210 How do we make our work meaningful to diverse audiences beyond the university? How can we use artistic representations and communications to engage communities in complex ways? During this workshop, students will bring in a piece of work (anything from a budding idea to a work-in-progress) for which they would like to consider creative ways to make it speak to multiple audiences within and beyond the university. The goal of the workshop is to walk students through the process of making their work more accessible, artistic, engaged, critical, meaningful, and impactful.  Workshop participants are asked to bring the following:1.     An idea or piece of your own work2.     An example of work you admire from the genre you're working in (print copy, video link, etc.)3.     An anonymous letter in an unmarked envelope listing the audiences, demographics, and 'kinds' of people you want to connect with or encounter your work RSVP to craycraft.31@osu.edu by Wednesday, February 14th if you would like to attend the workshop. This event is co-sponsored by the Department of Women's, Gender and Sexuality Studies; Environmental Humanities; the Department of African American and African Studies, the Diversity and Identity Studies Collective (DISCO); the Appalachian Studies Network@OSU; Department of Dance, and the English Graduate Organization (EGO).Photo by David Flores
11th Floor, 305 Thompson Library, 1858 Neil Avenue, Columbus, OH 43210
OSU ASC Drupal 8
ascwebservices@osu.edu
America/New_York
public
Date Range
Add to Calendar
2018-02-16 18:00:00
2018-02-16 19:30:00
Performance & Workshop with Crystal Good
How do artists and writers affectively and critically engage diverse audiences through creative innovation? How might we approach art and performance's relationship with activism in our ever-digital world? How do new and emerging media forms change or enhance our relationship with artistic representations and activism? Crystal Good's performance will include a poetry reading that explores the intersections of environmental, economic, gender, language, and racial justice, especially as they exist in the Appalachian region. Because her work is invested in the interconnections of activism, creative writing, performance, and digital media, the performance will feature a unique assemblage that explores how writing and performance activism might arise in both the digital and physical world. Good will perform her poetry alongside mixed media representations of how art and performance might function as activism. The performance will affectively and critically engage with Good's innovation in how we approach art and performance and their relationship with activism in our ever-digital world. Following the reading, Good will host a dialogue where audience members will have an opportunity to engage the poet on her creative approaches and experiences.Crystal Good is a member of the Affrilachian Poets, a group of writers and artists whose creations and existence combat the erasure of African American identity in the Appalachian region, an Irene McKinney Scholar, and author of Valley Girl. She is the founder and CEO of Mixxed Media, a marketing and consulting firm that teaches media and engagement strategies to mission-driven organizations. She also works as an advocate for environment, education, and economic actions like industrial hemp, and she is creating a digital commons for voters to express their concerns through her self-made position of Social Media Senator for West Virginia. Crystal Good has spoken and read her poetry in Abu Dhabi, United Arab Emirates, at the West Virginia section of the Women's March on Washington, for the 2013 TEDx conference in Lewisburg, West Virginia, for the LouderARTS Project, for the Appalachian Mountain Advocates, and for students and scholars at several universities and colleges.  Workshop with Crystal GoodSaturday, February 1712:00pm - 3:00pmDenney Hall 311, 164 Annie and John Glenn Avenue, Columbus, OH 43210 How do we make our work meaningful to diverse audiences beyond the university? How can we use artistic representations and communications to engage communities in complex ways? During this workshop, students will bring in a piece of work (anything from a budding idea to a work-in-progress) for which they would like to consider creative ways to make it speak to multiple audiences within and beyond the university. The goal of the workshop is to walk students through the process of making their work more accessible, artistic, engaged, critical, meaningful, and impactful.  Workshop participants are asked to bring the following:1.     An idea or piece of your own work2.     An example of work you admire from the genre you're working in (print copy, video link, etc.)3.     An anonymous letter in an unmarked envelope listing the audiences, demographics, and 'kinds' of people you want to connect with or encounter your work RSVP to craycraft.31@osu.edu by Wednesday, February 14th if you would like to attend the workshop. This event is co-sponsored by the Department of Women's, Gender and Sexuality Studies; Environmental Humanities; the Department of African American and African Studies, the Diversity and Identity Studies Collective (DISCO); the Appalachian Studies Network@OSU; Department of Dance, and the English Graduate Organization (EGO).Photo by David Flores
11th Floor, 305 Thompson Library, 1858 Neil Avenue, Columbus, OH 43210
Center for Folklore Studies
cfs@osu.edu
America/New_York
public
Description
How do artists and writers affectively and critically engage diverse audiences through creative innovation? How might we approach art and performance's relationship with activism in our ever-digital world? How do new and emerging media forms change or enhance our relationship with artistic representations and activism? Crystal Good's performance will include a poetry reading that explores the intersections of environmental, economic, gender, language, and racial justice, especially as they exist in the Appalachian region. Because her work is invested in the interconnections of activism, creative writing, performance, and digital media, the performance will feature a unique assemblage that explores how writing and performance activism might arise in both the digital and physical world. Good will perform her poetry alongside mixed media representations of how art and performance might function as activism. The performance will affectively and critically engage with Good's innovation in how we approach art and performance and their relationship with activism in our ever-digital world. Following the reading, Good will host a dialogue where audience members will have an opportunity to engage the poet on her creative approaches and experiences.
Crystal Good is a member of the Affrilachian Poets, a group of writers and artists whose creations and existence combat the erasure of African American identity in the Appalachian region, an Irene McKinney Scholar, and author of Valley Girl. She is the founder and CEO of Mixxed Media, a marketing and consulting firm that teaches media and engagement strategies to mission-driven organizations. She also works as an advocate for environment, education, and economic actions like industrial hemp, and she is creating a digital commons for voters to express their concerns through her self-made position of Social Media Senator for West Virginia. Crystal Good has spoken and read her poetry in Abu Dhabi, United Arab Emirates, at the West Virginia section of the Women's March on Washington, for the 2013 TEDx conference in Lewisburg, West Virginia, for the LouderARTS Project, for the Appalachian Mountain Advocates, and for students and scholars at several universities and colleges. 
 
Workshop with Crystal Good
Saturday, February 17
12:00pm - 3:00pm
Denney Hall 311, 164 Annie and John Glenn Avenue, Columbus, OH 43210
How do we make our work meaningful to diverse audiences beyond the university? How can we use artistic representations and communications to engage communities in complex ways? During this workshop, students will bring in a piece of work (anything from a budding idea to a work-in-progress) for which they would like to consider creative ways to make it speak to multiple audiences within and beyond the university. The goal of the workshop is to walk students through the process of making their work more accessible, artistic, engaged, critical, meaningful, and impactful.  

Workshop participants are asked to bring the following:
1.     An idea or piece of your own work
2.     An example of work you admire from the genre you're working in (print copy, video link, etc.)
3.     An anonymous letter in an unmarked envelope listing the audiences, demographics, and 'kinds' of people you want to connect with or encounter your work
 
This event is co-sponsored by the Department of Women's, Gender and Sexuality Studies; Environmental Humanities; the Department of African American and African Studies, the Diversity and Identity Studies Collective (DISCO); the Appalachian Studies Network@OSU; Department of Dance, and the English Graduate Organization (EGO).
Photo by David Flores
---