Image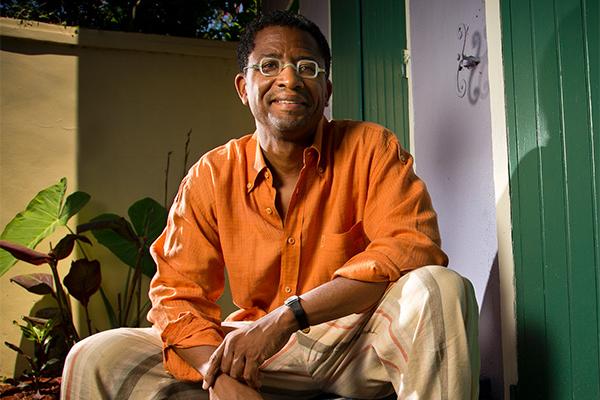 September 30, 2022
12:00PM - 1:30PM
Location
Barnett Center Collaboratory Space and via Zoom
Date Range
Add to Calendar
2022-09-30 12:00:00
2022-09-30 13:30:00
Origins and Extensions: The Pleasures of New Orleans Food
This event is at capacity. You are welcome to RSVP to attend virtually. The Zoom link is here: https://osu.zoom.us/meeting/register/tJ0odeCqrjsjHdKrqvWeYuZu3WC3stSBeS2h   The pleasures of New Orleans food are often attributed to the high standards and culinary skills of the French colonists. However, a closer look reveals that all the peoples of New Orleans have made significant contributions, perhaps none more so than the west African residents. Join us for a talk about the origins of New Orleans food, its cultural significance, and its current state. Lolis Eric Elie is a New Orleans born, Los Angeles based writer and filmmaker. His television credits include work on "Bosch," "The Chi," "The Man in the High Castle," "Greenleaf" and the HBO series "Treme." Working with the award-winning director Dawn Logsdon, he co- produced and wrote the PBS documentary, Faubourg Treme: The Untold Story of Black New Orleans. He is the co-author of Rodney Scott's World of Barbecue: Every Day's a Good Day, from Clarkson-Potter. His essay, "America's Greatest Hits," is included in Best African American Essays: 2009. A former columnist for The Times-Picayune, he is the author of Smokestack Lightning: Adventures in the Heart of Barbecue Country and co-producer and writer of "Smokestack Lightning: A Day in the Life of Barbecue," the documentary based on that book. He is editor of Cornbread Nation 2: The Best of Southern Food Writing. A contributing writer to The Oxford American, his work has appeared in Gourmet, The Washington Post, The New York Times, Bon Appetit, Downbeat and The San Francisco Chronicle. This is event is free and open to the public. Co-sponsored by the Center for Folklore Studies and the Department of Comparative Studies. In the Barnett Center for Integrated Arts and Enterprise Collaboratory Space, Ground Level 1813 N High St. Columbus, OH 43210 Zoom option: Prefer to attend virtually? RSVP here: https://osu.zoom.us/meeting/register/tJ0odeCqrjsjHdKrqvWeYuZu3WC3stSBeS2h
Barnett Center Collaboratory Space and via Zoom
OSU ASC Drupal 8
ascwebservices@osu.edu
America/New_York
public
Date Range
Add to Calendar
2022-09-30 12:00:00
2022-09-30 13:30:00
Origins and Extensions: The Pleasures of New Orleans Food
This event is at capacity. You are welcome to RSVP to attend virtually. The Zoom link is here: https://osu.zoom.us/meeting/register/tJ0odeCqrjsjHdKrqvWeYuZu3WC3stSBeS2h   The pleasures of New Orleans food are often attributed to the high standards and culinary skills of the French colonists. However, a closer look reveals that all the peoples of New Orleans have made significant contributions, perhaps none more so than the west African residents. Join us for a talk about the origins of New Orleans food, its cultural significance, and its current state. Lolis Eric Elie is a New Orleans born, Los Angeles based writer and filmmaker. His television credits include work on "Bosch," "The Chi," "The Man in the High Castle," "Greenleaf" and the HBO series "Treme." Working with the award-winning director Dawn Logsdon, he co- produced and wrote the PBS documentary, Faubourg Treme: The Untold Story of Black New Orleans. He is the co-author of Rodney Scott's World of Barbecue: Every Day's a Good Day, from Clarkson-Potter. His essay, "America's Greatest Hits," is included in Best African American Essays: 2009. A former columnist for The Times-Picayune, he is the author of Smokestack Lightning: Adventures in the Heart of Barbecue Country and co-producer and writer of "Smokestack Lightning: A Day in the Life of Barbecue," the documentary based on that book. He is editor of Cornbread Nation 2: The Best of Southern Food Writing. A contributing writer to The Oxford American, his work has appeared in Gourmet, The Washington Post, The New York Times, Bon Appetit, Downbeat and The San Francisco Chronicle. This is event is free and open to the public. Co-sponsored by the Center for Folklore Studies and the Department of Comparative Studies. In the Barnett Center for Integrated Arts and Enterprise Collaboratory Space, Ground Level 1813 N High St. Columbus, OH 43210 Zoom option: Prefer to attend virtually? RSVP here: https://osu.zoom.us/meeting/register/tJ0odeCqrjsjHdKrqvWeYuZu3WC3stSBeS2h
Barnett Center Collaboratory Space and via Zoom
Center for Folklore Studies
cfs@osu.edu
America/New_York
public
Description
This event is at capacity. You are welcome to RSVP to attend virtually.
The pleasures of New Orleans food are often attributed to the high standards and culinary skills of the French colonists. However, a closer look reveals that all the peoples of New Orleans have made significant contributions, perhaps none more so than the west African residents. Join us for a talk about the origins of New Orleans food, its cultural significance, and its current state.
Lolis Eric Elie is a New Orleans born, Los Angeles based writer and filmmaker. His television credits include work on "Bosch," "The Chi," "The Man in the High Castle," "Greenleaf" and the HBO series "Treme." Working with the award-winning director Dawn Logsdon, he co- produced and wrote the PBS documentary, Faubourg Treme: The Untold Story of Black New Orleans. He is the co-author of Rodney Scott's World of Barbecue: Every Day's a Good Day, from Clarkson-Potter. His essay, "America's Greatest Hits," is included in Best African American Essays: 2009.
A former columnist for The Times-Picayune, he is the author of Smokestack Lightning: Adventures in the Heart of Barbecue Country and co-producer and writer of "Smokestack Lightning: A Day in the Life of Barbecue," the documentary based on that book. He is editor of Cornbread Nation 2: The Best of Southern Food Writing.
A contributing writer to The Oxford American, his work has appeared in Gourmet, The Washington Post, The New York Times, Bon Appetit, Downbeat and The San Francisco Chronicle.
This is event is free and open to the public. Co-sponsored by the Center for Folklore Studies and the Department of Comparative Studies.
In the Barnett Center for Integrated Arts and Enterprise
Collaboratory Space, Ground Level
1813 N High St.
Columbus, OH 43210
Zoom option: Prefer to attend virtually? RSVP here: https://osu.zoom.us/meeting/register/tJ0odeCqrjsjHdKrqvWeYuZu3WC3stSBeS2h
---