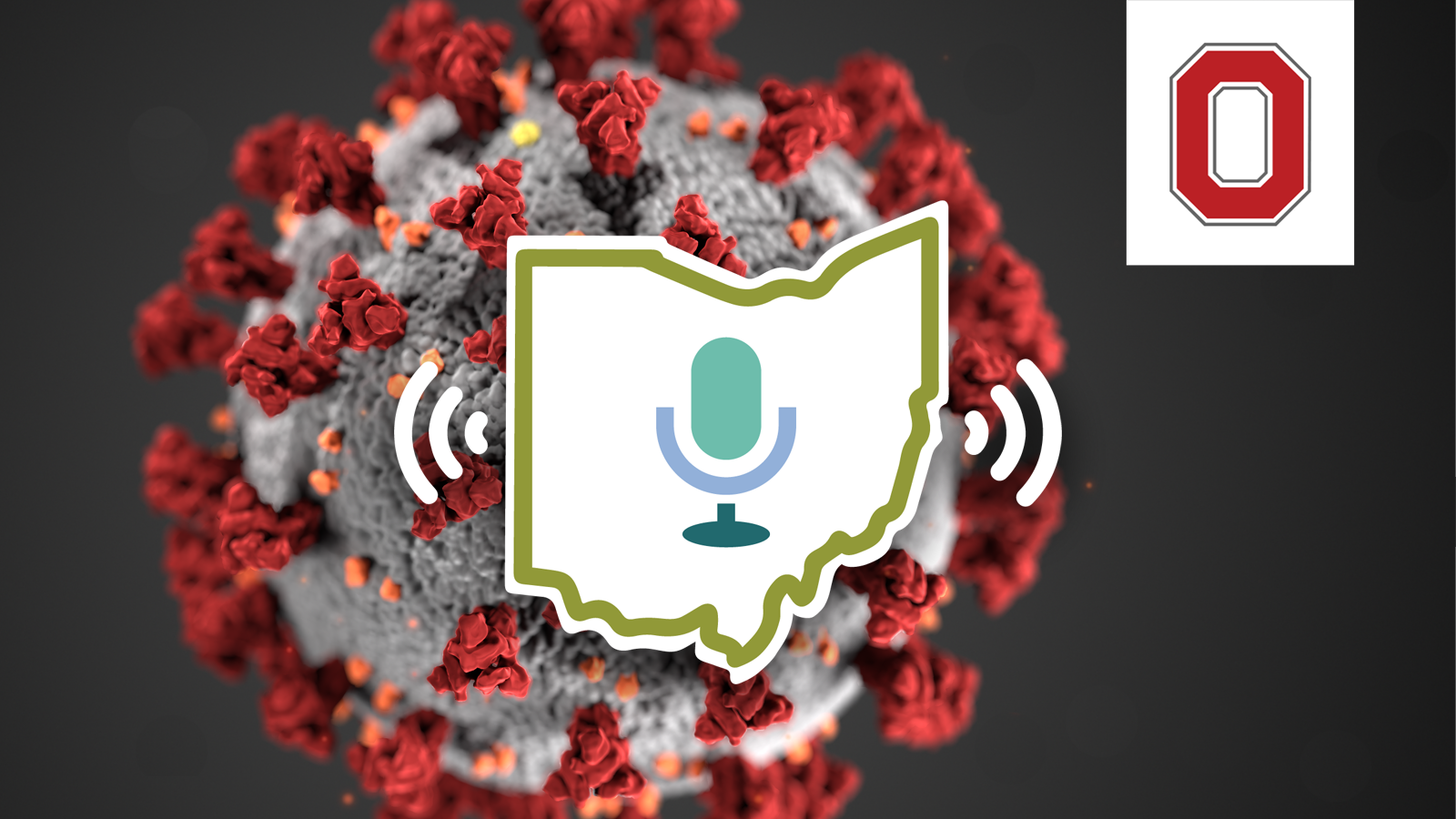 Body
Covid Conversations: Life in a Time of Corona is a podcast created and hosted by Rachel Hopkin PhD  that features conversations between Ohioans who are professionally and/or personally involved with the arts and humanities and their paired counterparts around the globe. Covid Conversations will be archived at the Folklore Archives and made available on the FolkOhio website and other media channels. Dr. Hopkin is a UK-born, US-based folklorist, BBC-trained journalist and award-winning radio producer whose reports and documentaries have been broadcast on media outlets around the world, including the BBC, National Public Radio in the US, and national networks in Australia, Canada, The Netherlands, and Ireland.
The series is funded by an OSU Global Arts and Humanities Discovery Theme grant and is a collaboration between the OSU Center for Folklore Studies, the OSU Humanities Institute, and Ohio Humanities. Its 12 episodes will be published between September 2020 and August 2021. It is produced and presented by radio producer and folklorist Dr. Rachel Hopkin. Covid Conversations: Life in a Time of Corona is available on Apple Podcasts and Stitcher.
Covid Conversations Podcast Episodes
Episode 1: Wordsmiths and Artists. The first episode features Omopé Carter Daboiku in Dayton, Ohio, and Alinah Azadeh, who joins us from Lewes in the southeast of England. Omopé Carter Daboiku grew up rural southern Ohio. Her work focuses on the intersectionality of place, identity and belonging, and the experience of growing up a "mixed-race, colored child" of Nigerian heritage on the Appalachian landscape. Alinah Azadeh is a UK-based  writer, artist, performer and social activist of British-Iranian heritage.
Listen to Episode 1 on OSU's streaming site.
Episode 2:  Argentine Tango Dancers and Teachers. In this episode, we hear from Jessica Tupa, who lives in Dayton, Ohio, and Monica Maria Fumagalli in Milan, Italy. Jessica Tupa is a psychotherapist with a background as a dance artist and educator. (In fact, she has a degree from the Ohio State's Department of Dance, no less). She started dancing Argentine tango several years ago, and – pre-Covid – traveled extensively with her partner for tango within the US, and – more recently – Europe. Jessica uses her movement background to support wholistic wellbeing both in her psychotherapy practice and in her own life.  During Covid, Jessica has spent some of her time teaching her Tupaco Tango Barre method online and she talks about this during the Conversation. Monica Maria Fumagalli studied many forms of dance before taking up Argentine tango in 1990. She has gone on to teach and perform the dance internationally, including in the USA. She also established a tango school in her native Milan. In addition, Monica is an accomplished scholar who has published and presented widely on the history and culture of Argentine tango.
Listen to Episode 2 on OSU's streaming site.
Episode 3: Quiltmakers. Dr. Carolyn Mazloomi is a quilter, quilt scholar, curator, founder of the Women of Color Quilters Network. She's received many honors, including being named as a National Heritage Fellow by the National Endowment for the Arts in 2014, which is the highest award given in the United States for traditional arts. Carolyn is also a trained aerospace engineer. Felicity Khan has been sewing all her life. She has formed several patchwork and quilting groups and teaches theses craft to others. Felicity was formerly a board member of the Good Hope Quilters Guild - which is the Western Cape of South Africa's patchwork and quilting umbrella body - and served as its Outreach Liaison person. More information about the Unmask Your Creativity competition discussed in the podcast can be found here: https://wcqn.org/unmask-your-creativity-contest/
Listen to Episode 3 on OSU's streaming site.
Episode 4: Orchestral Musicians. Mark Kosower is Principal Cello with the Cleveland Orchestra. He has been with the orchestra since 2010. Matthew Hunter is a violist with the Berlin Philharmonic. He has lived in Germany for 25 years, but he was born in Ohio and spent some years working in the state, though he was raised in Massachusetts. As well as playing with their respective orchestras, both Mark and Matthew perform as soloists and chamber ensemble players and are teachers. Among the subjects they discuss during this episode are their approaches to live-streamed performances and concerns regarding hand sanitizers with respect to their musicianship and instruments.
Some of Mark Kosower's online performances can be accessed via the following links:
YouTube: https://www.youtube.com/channel/UCiTBAKeujunlSKDdRIyfbHw
Facebook: https://www.facebook.com/profile.php?id=100008328842166
Listen to Episode 4 on OSU's streaming site.
Episode 5: Ethnographers. Covid Conversations Episode 5 features two scholars who specialize in ethnographic fieldwork methods and who have undertaken ethnographic fieldwork since the pandemic began early in 2020. Lucy Long is a folklorist and ethnomusicologist who teaches at Bowling Green State University in Ohio. She is the founder and director of The Center for Food and Culture. An online exhibition of her Covid-related foodways research is available at https://comfortfoodwaysexhibit.wordpress.com. Iñigo Sánchez-Fuarros is an anthropologist with the Institute of Heritage Sciences, Spanish National Research Council in Santiago de Compostela in Spain.  He is also the Principal Investigator of the Sounding Out the Tourist City project which is based in Lisbon, Portugal and which has been documenting the soundscape of the city both prior to and during Covid.
Listen to Episode 5 on OSU's streaming site.
Episode 6: Bharatanatyam Dancers and Teachers. In this episode, we hear from two dancers and teachers of Bharatanatyam which is one of India's oldest classical dance traditions. Smitha Magal is a senior disciple of Professor Sudharani Raghupathy and, after some years teaching in her native India, formed her own dance school SILAMBAM in 1992 after moving to Dublin, Ohio. Smitha is originally from Chennai in India which is the home of the other guest in this podcast, Priya Murle. Like Smitha, Priya is also senior disciple of Professor Ragupathy – in fact, the two guests studied together and are long-time friends and colleagues. Priya was a senior teacher at Shree Bharatalaya, prior to founding her Shri Silambam Academy of Fine Arts in 2012 in Chennai.

Listen to Episode 6 on OSU's streaming site.
Episode 7: Writers of Young Adult Fiction. Natalie Richards is the New York Times bestselling author of seven books for young adults. She lives in Columbus, Ohio. Fatima Sharaffedine is the award-winning writer and translator of books for children and young adults and also a writing tutor. She is from and is currently living in Beirut, Lebanon.
Listen to Episode 7 on OSU's streaming site.
Episode 8: Visual Artists and Curators. Cat Sheridan uses many different media in her artistic work, with a special focus on ceramics. Cat is also the director of the Ohio Arts Council's Riffe Gallery which is based in downtown Columbus, the city where she lives. Gabriel Amza is a Romanian photographer, curator, and community organizer. His work usually takes the form of long-term documentary projects and installations, often with themes relating to social justice and the environment. Gabriel lives in Timisoara, Romania.
Listen to Episode 8 on OSU's streaming site.
Episode 9: Musicians and Songwriters. Floco Torres is a Hip-Hop artist based in Akron, OH and is one half of the duo Free Black! which he formed in 2018 with producer/drummer HR3. To find out more about Floco and his music, visit flocotorres7.bandcamp.com and nobodycaresnews.com. Sebastian Arze lives in Asunción in Paraguay, where he is a member of the reggae-grunge band Deficiente. To access their music, visit https://deficiente.bandcamp.com/.
Listen to Episode 9 on OSU's streaming site.
---
Covid Conversations in the Press
"Ohio Humanities Announces Covid Conversations" in the Ironton Tribune (2/17/2021)
Covid Conversations Team
podcast producer
Rachel Hopkin PhD, Independent Radio Producer and Folklorist. To find out more about Rachel Hopkin, please visit www.rachelhopkin.com.
Principal investigator
Katherine Borland PhD, Associate Professor, OSU's Department of Comparative Studies and Director of OSU's Center for Folklore Studies
Collaborators
Cassie Patterson PhD, Associate Director of OSU's Center for Folklore Studies
Paul Kotheimer, Systems Manager, OSU ASC Technology Services
Amy Shuman PhD, Professor, OSU Department of English
David Staley PhD, Director of the OSU Humanities Institute and of the Center for the Humanities in Practice
Nick Spitulski, Administrative Manager, OSU Humanities Institute
Luke Dennis, General Manager, WYSO (the NPR affiliate station for the Greater Dayton area)
Cristina Benedetti PhD, Independent Folklorist, currently on contract with Ohio Arts Council
Patricia Williamsen, Executive Director, Ohio Humanities
David Merkowitz PhD, Assistant Director, Ohio Humanities
Visit the Covid Conversations podcast on the Ohio Humanities website and learn more about other Ohio Humanities podcast episodes!