July 14, 2022
Amy Shuman and Mary Hufford reflect on 2022 Field Schools
Image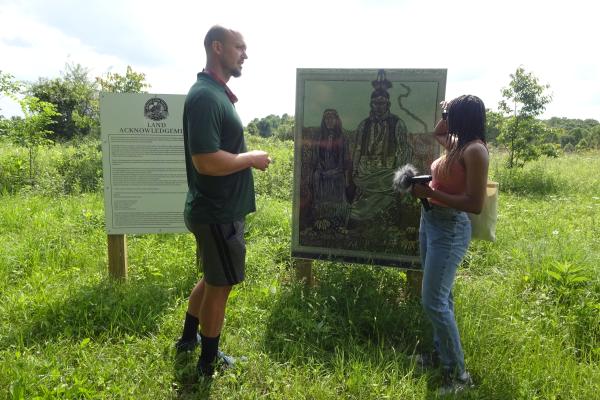 Description
This past semester, professors Amy Shuman and Mary Hufford were awarded Discovery Field School Grant Awards, which allowed them to "take students to domestic destinations to learn about the transformational value of the humanities and the arts." Here are pictures and captions which detail the students' experiences. 
---
Human Rights on the Ground in New York City
---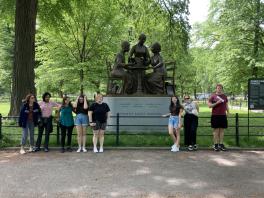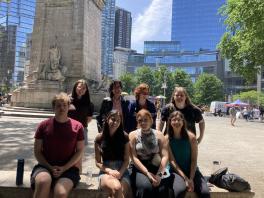 Eight Ohio State students attended the Discovery Theme "Human Rights on the Ground" Field School with Professor Amy Shuman May 23-27 in New York City. The community partner was City Lore, a folklore based organization dedicated to fostering living cultural heritage. The focus of the field school was the use of the arts and cultural practices in human rights movements. 
---
The 2022 Ohio Field School 
The 2022 Ohio Field School, a program of the Center for Folklore Studies, was conducted during the first summer semester. The overarching question for the field school is "How do Ohioans create a sense of place in a changing environment?" From May 31 to June 10, this year's residency, taught by Katherine Borland and Mary Hufford, related that question to stewardship of woodland communities in southeastern Ohio. Working in pairs, twelve students – both graduates and undergraduates – collaborated with six community partners to compile and tell the partners' stories of stewarding woodlands and community life. In the process, students developed and honed their ethnographic and documentary skills. This year's partners included United Plant Savers, Integration Acres, Women Owning Woodlands, the Tablertown People of Color Museum and two programs of Rural Action: Appalachian Understories and Sustainable Forestery. Each partner will receive a complete set of recordings and photographs, together with digitized archival materials. For stories compiled by students with their community partners, please visit the Field School Gallery later this year.  
---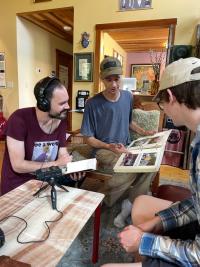 Micah Edmiston (left) and Ko Rupert (right), interviewing Chip Carroll (center), United Plant Savers, about the UPS summer internship program.  Edmiston and Rupert created a digital archive of the scrapbooks created over the past two decades of the internship program. Photo by Mary Hufford.  
---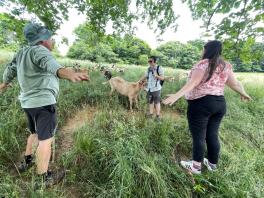 Ira Kennard-Sheldon (center) records a session of "goat qi gong," conducted beneath a sycamore tree by Chris Chmiel, director of Integration Acres, a farm in Albany, Ohio committed to sustainable livelihoods based on stewardship of plants native to southeastern Ohio – such as pawpaws, spicebush, and native nut trees. Chmiel, founder of the annual Ohio Pawpaw Fest, has integrated goats, which don't eat pawpaw trees or fruit, into a silvopasturing system. Deanna Holroyd (right) worked with Kennard-Sheldon to inaugurate a Pawpaw museum, beginning with digitizing and organizing ephemera and documenting artworks generated over twenty-five years of Ohio's Pawpaw Fest. Photo by Mary Hufford.  
---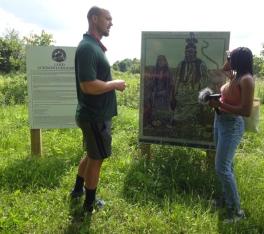 Angel Evans (right) interviews Badger Johnson, agroforester with Rural Action's Sustainable Forestry Program, about the land acknowledgement that Johnson erected at a forest farming demonstration site on the Woodcock Nature Preserve. In addition to native medicinal botanicals, the site features chestnuts, pawpaws, elderberries, garlic and more. Photo by Jay Ozello.    
---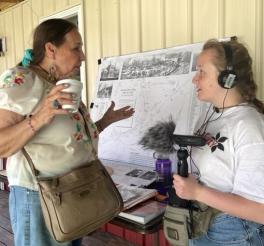 Emily Kovacik (right) interviewing Nancy Rose about the history of Red Row Hollow, where Rose grew up and which is no longer inhabited, following a tour of Haydenville and surrounding mining communities, sponsored by Rural Action's Appalachian Understories. Photo by Mary Hufford. 
---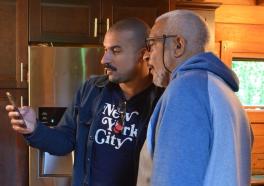 Marcus Morris (left), a graduate student in the MFA program with family ties to Tablertown, shares with David Butcher, founder of the Tablertown People of Color Museum, progress on a website he and Sarah Henry were developing in consultation with Butcher. Photo by Katherine Borland.  
---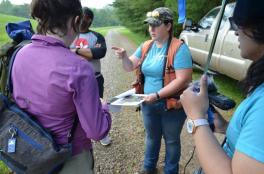 Megan Amling (left) and Raven Serenity Glover (right) document a Women Owning Woodlands (WOW) site visit and consultation with Dani Gill, of the Hocking Soil Conservation Service in Logan, Ohio. Seeking to overcome historical and cultural barriers faced by women in a traditionally male-dominated sector, WOW assists women in gaining the knowledge and skills needed to manage their woodlands. Amling and Glover developed a brochure of testimonies from women who have sought and received guidance from the Southeastern Ohio chapter of WOW.  Photo by Katherine Borland.   
---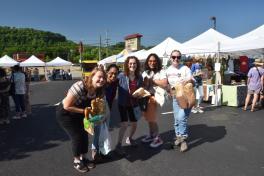 OFS students at the Athens Farmers Market, Saturday, June 4: from left: Sarah Henry, Shalini Abayasekara, Jay Ozello, Raven Serenity Glover, and Emily Kovacik. Photo by Mary Hufford.  
News Filters:
---