May 26, 2022
Border Issues and Immigrant Rights Activism
Image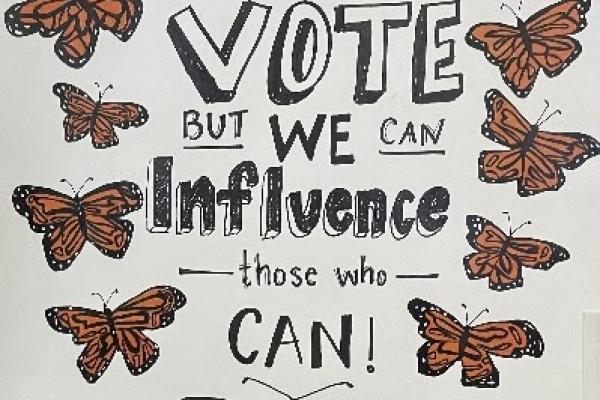 Description
Nine students in CS 4193 Border Issues and Immigrant Rights Activism in Ohio completed their final projects, documenting their visits to immigrant communities, immigrant rights groups and points of border enforcement in Cincinnati, Cleveland and Salem, Ohio (site of the largest ICE Raid in Ohio, in 2018). Students dialogued directly with legal and undocumented immigrants, asylees, and DACA recipients, some of whom were also activists working on issues of concern to their communities. They also spoke with representatives from grassroots justice organizations working to advance immigrant rights and expand refugee services. Throughout, the OSU student team demonstrated an impressive level of engagement, personal commitment and critical inquiry when it came to understanding both the corrupt nature of our current immigration system and the vital work of grassroots activists in addressing a variety of harms and pushing for needed reforms.
Elizabeth Burns and Allison Li produced a comprehensive description of the experience as well as personal reflections in their blog: https://sites.google.com/view/ohiostateborderactivism/home
Anais Fernandez Castro, Gino Moretta, and Max Vore provided a mostly Spanish-language reflection on the experience with Elena Foulis, on her podcast, Ohio Habla:   https://soundcloud.com/ohiohabla/panel-1?utm_source=clipboard&utm_medium=text&utm_campaign=social_sharing
Alanna Strickland, Liv Drambarean, and Emily Boyer provided an English-language reflection for Ohio. Habla:  https://soundcloud.com/ohiohabla/ls-apr27-22panel2?utm_source=clipboard&utm_medium=text&utm_campaign=social_sharing
Instructors Stephanie Aubry and Katherine Borland wish to thank Elena for her willingness to dialog with the students. We also want to offer a special thanks to two participants who didn't make it into the student reports but who offered their time, expertise and passion: Danya Contractor spoke to students about an OSU-based visitation program to the Morrow County Jail during our first class session, and Brian Stefan-Szittai at the InterReligious Task Force (IRTF) organized and hosted our Cleveland visit.
---