April 27, 2021
Bringing the Border to Columbus: A Virtual Symposium Recap by Dr. Danielle Schoon
Image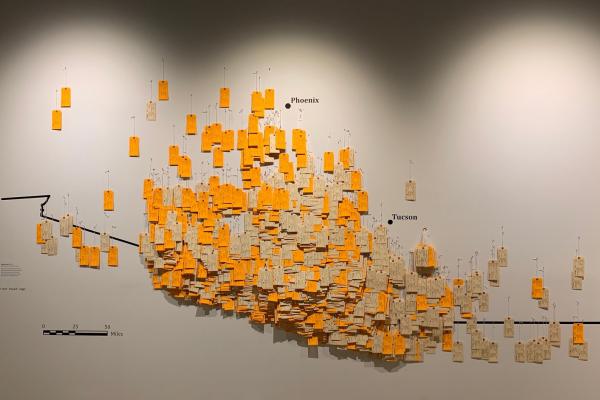 Description
On April 12-16, 2021 at The Ohio State University, two faculty members from the Department of Sociology (Victor Espinosa and Danielle Schoon) co-organized a virtual symposium, Bringing the Border to Columbus. Symposium events were focused on the politics of south-to-north migrations in the borderlands between the United States and Mexico. Participants also discussed how immigration policies have direct impacts on the lives of our immigrant neighbors here in Columbus, OH.  
A core element of the symposium was the opportunity to participate in Hostile Terrain 94 (HT94), a participatory art project sponsored and organized by the Undocumented Migration Project (UMP), a non-profit research-art-education-media collective directed by anthropologist Jason De León. The exhibition is composed of handwritten toe tags that represent real migrants who have died trying to cross the Sonoran Desert of Arizona between the mid-1990s and 2019. These tags are geolocated on a wall map of the desert to show the exact locations where remains were found. Participants in the symposium at OSU had the chance to fill out some of the ~ 3,200 toe tags with details of migrants' remains researched by UMP. The exhibition was held in Hopkins Hall Gallery on the OSU campus during the week of the symposium, curated by Luke Stettner (Lecturer, Department of Art) and Bryan Ortiz (Graduate Student, Department of Art). 
The symposium was funded by the Global Arts + Humanities Discovery Theme and featured academics, activists, artists, and immigrants from the OSU and greater Columbus community. On Monday,  Lucille Toth (Assistant Professor of French) held a virtual workshop with her collaborators in On Board(hers), a series of contemporary dance workshops and performances based on the experiences and testimonies of female immigrants using movement, language, and trauma-informed techniques to show the healing and therapeutic dimension of community dancing. On Tuesday, local sanctuary activists and a representative of CRIS (Community Refugee and Immigration Services) gathered to discuss the work they are doing with immigrants in Columbus. Edith Espinal and Miriam Vargas also shared their experiences of living in sanctuary in churches in Columbus for three years during the Trump administration. On Wednesday, Moriah Flagler (Artistic Director of Be the Street) offered a workshop in self-care for community leaders, and LROD (Lecturer in Theater, Dance and Media at Harvard University and a graduate of OSU) presented her latest video projects about the embodied and visual intersections of performance, dance, and technology where futurism and surrealism fold and unfold around US-MX border politics. On Thursday, Guisela Latorre (Professor, Department of Women's, Gender and Sexuality Studies and History of Art) facilitated a conversation with guest artists, Tanya Aguiñiga and Jackie Amezquita, about Art and Activism on the Border. On Friday, Elena Foulis (Senior Lecturer in Spanish) shared a film she created with OSU undergraduate students in PerformancerUS, titled "Performing Ourselves, Performing Our Histories: Latinx Stories of a Pandemia." 
The special guests of the symposium were Douglas S. Massey, a professor of Sociology at the School of Public and International Affairs at Princeton University who gave a guest lecture on The Human Cost of Immigration Policy, and Karla Cornejo Villavicencio, an Ecuadorian-American writer and the author of The Undocumented Americans (shortlisted for the National Book Award for Nonfiction in 2020) who discussed her book and experiences of being a writer with Reanne Frank (Professor, Department of Sociology) and Melissa Rodriguez (a graduate student in the Department of Sociology and the Symposium Event Coordinator). The Keynote Presenter was Robin C. Reineke, Assistant Research Social Scientist in Anthropology at the University of Arizona's Southwest Center. On Friday evening, Dr. Reineke delivered her keynote, titled Re-Membering the Missing and Dead Along the U.S.-Mexico Border, in which she focused on the invisible labor of families of the missing and dead and the impact it has had on the social memory of racialized state violence in the borderlands. She closed her talk by inviting collective recognition of some of the border's dead and missing whose families have requested they be publicly named and remembered. 
Event descriptions, more information about the presenters, recordings of the events, and other resources can be accessed on the symposium website: https://u.osu.edu/bringingthebordertocolumbus/
---