September 10, 2018
Folklore students document changing culture in Delaware County
Image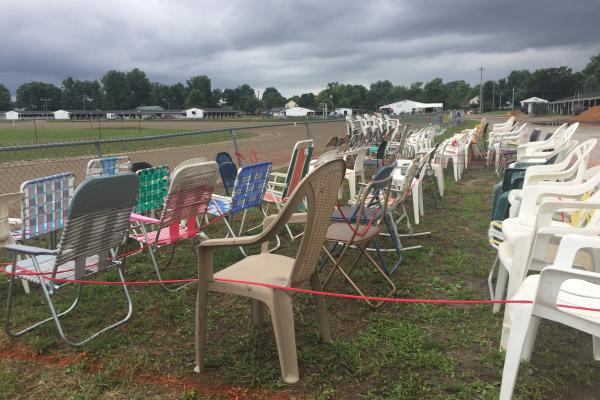 Description
Four CFS folklorists--Jess Holler, Mariah Marsden, Laura Pearce (alumna), and Sydney Varajon--will join the Delaware County Historical Society, the Little Brown Jug Society, the U.S. Trotters Association, and Dr. Howard Sachs (emeritus, Kenyon College) to document the annual Little Brown Jug harness race, which has been a central event in Delaware County history for 72 years. Students will conduct fieldwork at the race track and fairgrounds during Jug week (September 15 - 22, 2018) and record interviews on site and throughout the remainder of autumn semester. This project aims to research the cultural and economic impact of the Jug race on Delaware County and produce public programming to celebrate the 75th anniversary of the race as well as educational materials that will communicate the importance of the racing tradition in the area. Another goal is to create an archive of Jug interviews and history, which will be stored at the Delaware County Historical Society. 
The Little Brown Jug horse race, a jewel in the Triple Crown of harness racing, has been held in Delaware, OH each September for the past 72 years. Each year it brings over 50,000 people to Delaware from all over the United States and Canada. While there is some written documentation of the race in the form of newspaper articles and official programs, no one has systematically interviewed the owners, trainers, drivers, and others with intimate knowledge of the race to record their recollections, thoughts, and feelings about it. While the U.S. Trotters Association fill focus on interviewing well-known Jug participants, CFS folklorists will focus on documenting the experiences of lesser-known race regulars, such as the groundskeepers, fair workers, longtime attendees, new attendees, and race staff.  
The Little Brown Jug Oral History Project is funded by support from the Ohio Humanities Council. Photo image of chairs lined up a year in advance to reserve seats at the Little Brown Jug Race Track, courtesy of Cassie Patterson. 
---