June 19, 2020
Listening for Voices of Emancipation at the Rendville Cemetery
Image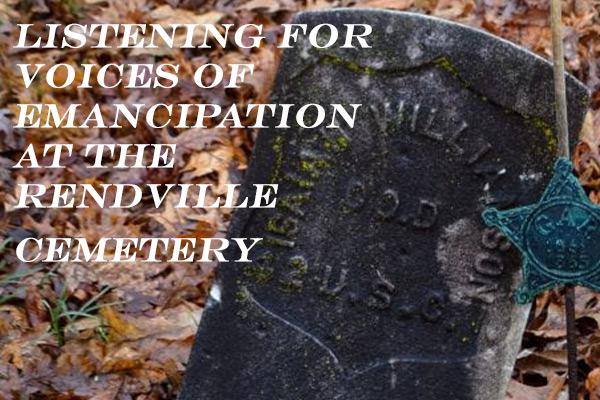 Description
The Rendville Historical Preservation Society and the Center for Folklore Studies invite CFS affiliated students, faculty, and staff to explore voices of emancipation in Rendville Cemetery between June 19 and September 22, 2020.
The Rendville/Scotch Hill Cemetery is a historic cemetery that served the community of Rendville, Ohio, a former coal town with a history of Black activism and leadership and wide ethnic diversity. Through the Ohio Field School, CFS has been collaborating with RHPS to document the cemetery, those who are buried there, and the importance of the site to members of the community living in Rendville and beyond. The goal of this project is to lend our skills as researchers to celebrate, amplify, and listen to the stories of Rendville residents in the historical record who lived through the Emancipation of enslaved Black Americans, and reflect on that history in this moment of ongoing struggles for justice and structural equality.
155 years after the end of the Civil War and the passage of the 13th Amendment the United States is still grappling with what Emancipation means in the wake of continued discriminatory practices and structures of racism, violence against Black communities, and judicial and penal systems that disproportionately affect and incarcerate Black Americans. By researching the complex stories of their lives, it is our goal to reflect on the past and future of emancipation in Ohio, Appalachia, and the United States. What can the voices and stories of the past tell us about 155 years of struggles for emancipation, justice, and equality?
Stories and contextual information collected by volunteer researchers through this project will be featured on the website CFS has developed in collaboration with the Rendville Historic Preservation Society (u.osu.edu/rendvillecemetery). On Sept. 22, project contributors and partners will convene for a discussion of what they found and how these stories influence our understanding of current struggles for justice and equality.
To get involved, please email CFS Public Folklorist Jasper Waugh-Quasebarth (waugh-quasebarth.1@osu.edu) with the subject heading "Rendville Cemetery." You will be given a link where you will sign up to research a person and further directions and resources to guide your research.
---