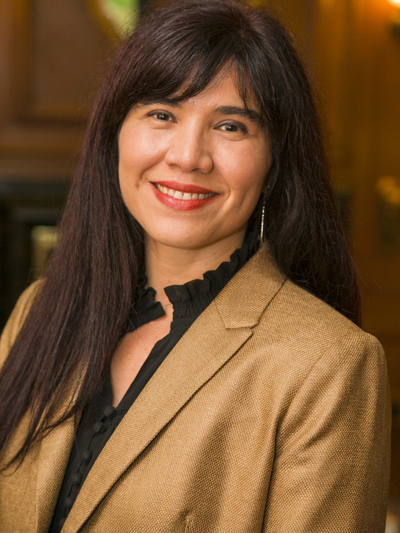 Elena Foulis
Spanish Senior Lecturer; Coordinator, Service-Learning and Heritage Language Senior Lecturer
Areas of Expertise
Latino Studies
Spanish language and Latin American Lit.
Service-Learning and Heritage Language
Education
Ph.D. Comparative Literature and Cultural Studies. University of Arkansas
M.A. Spanish. University of Arkansas
B.A. Spanish. The Ohio State University
Dr. Foulis has over 16 years of experience in higher education. She holds B.A. and M.A. degrees in Spanish and Latin American Literature and a Ph.D. in Comparative Literature and Cultural Studies. Her research and teaching interests include U.S. Latina/o literature, and Digital Oral History. She currently teaches courses in service-learning and Spanish for Heritage Speakers at OSU. Her articles explore Latin@ voices through oral history, oral history as participatory pedagogy in service-learning classrooms, identity and place through linguistic landscape and ethnography as a useful tool in advanced heritage language writing courses. Dr. Foulis is working on a digital oral history project about Latin@s in Ohio, which is being archived at the Center for Folkore Studies' internet collection.
SELECTED PUBLICATIONS:
"Oral History in the Digital Era: Oral Narratives of Latin@s in Ohio." Public, Journal of Imagining America. January 2018.
"Historias: Latin@ Voices in Ohio." Alter/nativas, Latin American Cultural Studies Journal. Fall 2017.
"Teaching Cristina Garcia's novels." In Latino/a Literature in the Classroom. Twenty-first-century approaches to teaching. Frederick Luis Aldama, Editor. Routledge. 2015
Latin@ Stories Across Ohio. iBook publication. Ohio State University Digital Publications. 2015
BOOK REVIEWS
Delgadillo, Theresa. Latina Lives in Milwaukee. Latinos in Chicago and Midwest Series. Urbana: University of IllinoisPress, 2015. H-Net Reviews in the Humanities & Social Sciences, Sep 2017, p1
Lozano, Adele, Editor. Latina/o College Student Leadership: Emerging Theory, Promising Practice. Lexington Books, 2015. Journal of Latinos & Education, Apr-Jun2017, Vol. 16 Issue 2, p167
Hinojosa, Felipe. Latino Mennonites: Civil Rights, Faith & Evangelical Culture. Baltimore: Johns Hopkins University Press, 2014; 297 RMMLA Journal. Volume 69, Number 2, Fall 2015.
Ontiveros, Randy. In The Spirit of the People: The Cultural Politics of the Chicano Movement. New York: New York University Press, 2013. 241p. Journal of Latinos & Education, Jul-Sep2015, Vol. 14 Issue 3, p220