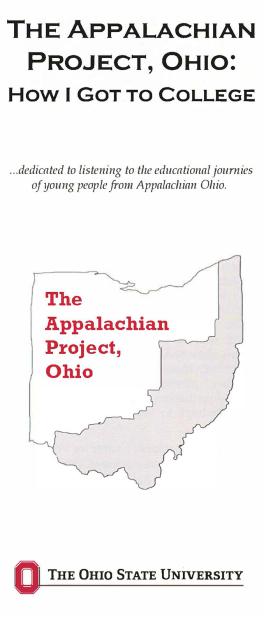 The files from the Appalachian Studies Network (Formerly the Appalachian Project, Ohio) represent fieldwork and activities completed by Center for Folklore Studies staff, affiliated faculty, and students between 2011 and 2015. Many files contain administrative documents (itineraries, interview questions, communication with partners) related to site visits to 12 counties in Appalachian Ohio, including: Lawrence, Athens, Jefferson, Scioto, Ross, Hamilton, Claremont, Vinton, Meigs, Mahoning, Harrison, and Pike. 
Material artifacts from these visits include: 
Pamphlets by municipal and county visitors, tourist, and economic bureaus and cultural/heritage centers 
Ephemera documenting events including newspapers and fliers 
Audio and video interviews with community members reflect on educational, economic, social, political, and environmental factors affecting high school students in the area and their desires to attend college. This project also includes audio and video of focus groups held with Appalachian students who currently attend Ohio State University. This collection represents the Center for Folklore Studies' efforts to engage rural placemaking, development, and sustainability in southeast Ohio in the 2010s.