Image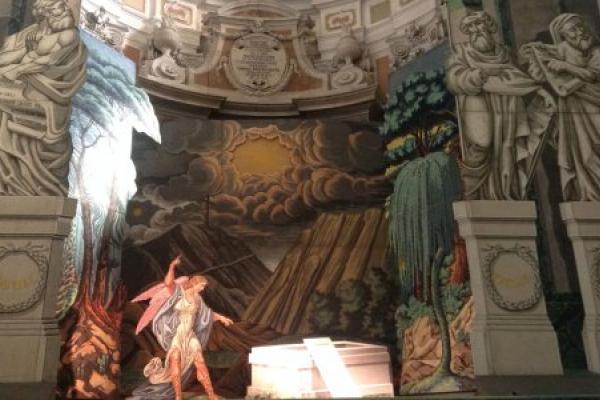 March 2, 2016
All Day
Location
Wexner Film/Video Theater, 1871 N High St
Description
Italian art historian Franco Boggero and Father Danilo Galiani of San Matteo Cathedral (Laigueglia, Italy) will present their discoveries, studies, and reconstructions of cartelami at this afternoon talk. Ephemeral devotional artifacts with theatrical qualities, cartelami have been in use for centuries in churches throughout the northern Mediterranean. Still in use today, these objects are created with painterly craft and manipulated perspective to transform the experience of church interiors and create a novel expression for popular worship.
Today's discussion will examine this prolific practice, its cultural origins, spatial innovations, and some symbolic and historic implications. In addition, Ohio State scholars from painting and the arts, architecture, theater, folklore, religious studies, and history of art will explore the connections between the art forms and introduce questions about the lost practice and performances—issues that will also be discussed in a new graduate seminar to be offered spring semester in 2017.
The recently rediscovered phenomenon of cartelami has challenged art historians and art restorers to understand and preserve a forgotten popular practice. When high-quality painted surfaces produced on cardboard for temporary installations were recently identified in a small remote village in Northern Italy, it was surprising enough to incite the interest of renowned experts of the Beni Culturali—the Italian Ministry of Cultural Heritage and Activities and Tourism. Eventually, these humble cardboard cutouts capable of transforming sacred space were discovered in over 60 village churches from Sardinia to the Pyrenees and the Alps. Their conditions varied and some required intervention. Sophisticated restoration practices have revealed superb pictorial surfaces by both unknown and renowned artists whose extraordinary painterly skills resulted in installation structures and effects that belie their humble craft.
Sponsored by The Ohio State University College of Arts and Sciences, La Soprintendenza Belle Arti e Paesaggio della Liguria, and the Roman Catholic Diocese of Albenga-Imperia. Cosponsored by the Wexner Center for the Arts and the Center for Folklore Studies.
---