Image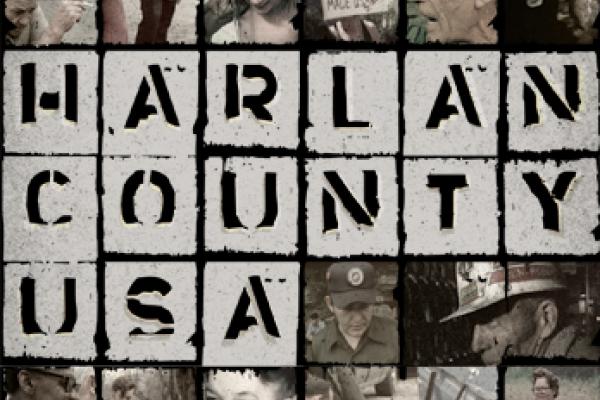 March 2, 2016
7:00PM - 10:00PM
Location
Film/Video Theater, Wexner Center for the Arts
Date Range
Add to Calendar
2016-03-02 20:00:00
2016-03-02 23:00:00
Film Screening of Harlan County U.S.A & Discussion w/ Barbara Kopple
***NOTE THAT THE EVENT TIME HAS CHANGED TO START AT 7PM***w/ special performance byDavid Morris and Jack Ballengee MorrisJoin us for a screening and discussion of Barbara Kopple's Harlan County U.S.A. (1976), a documentary account of the 1974 strike of Kentucky mine workers. The screening will be followed by a musical performance by David Morris, who provided some of the music for the documentary. Kopple will discuss aspects of documentary film-making as well as her current project, Shelter, which examines homeless veterans and features music by David Morris and his son, Jack Ballangee Morris.This event is open to the public but requires an admission fee. Standard Wexner film admission is $8 general public; $6 members, students, seniors. Visit http://wexarts.org/film-video/harlan-county-usa to purchase tickets.Kopple produced and directed Harlan County USA and American Dream, both winners of the Academy Award for Best Documentary Feature.  In 1991, Harlan County USA was named to the National Film Registry by the Library of Congress and designated an American Film Classic. Harlan County USA was restored and preserved by the Women's Preservation Fund and the Academy Film Archive, and was featured as part of the Sundance Collection at the Sundance Film Festival in 2005. The Criterion Collection released a DVD of the documentary in 2006.Kopple has been awarded the Human Rights Watch Film Festival Irene Diamond Award, Los Angeles Film Critics Award, National Society of Film Critics Award, the SilverDocs/Charles Guggenheim Award, New York Women in Film & Television Muse Award, the Maya Deren Independent Film and Video Award, the Woodstock Film Festival Maverick Award, Women in Film & Video of Washington, DC Women of Vision Award, the White House Project's EPIC Award, the International Documentary Association Career Achievement Award and the Sundance Film Festival Grand Jury Prize, Filmmakers Trophy & Audience Award.  The Paley Center for Media has named Barbara a 2007 "She Made It Honoree." She recently served her tenth year on the board of trustees for the American Film Institute and continues as an advisory board member for the American University Center for Social Media and Independent Feature Project's Filmmaker Labs.  In 2010, Barbara received an honorary Doctor of Humane Letters from American University.  She is a member of the Academy of Motion Picture Arts and Sciences, the Academy of Television Arts and Sciences, the Director's Guild of America, New York Women in Film and Television, the British Academy of Film and Television Arts, and actively participates in organizations that address social issues and support independent filmmaking.If you require assistance to attend these events, please contact Afsane at rezaeisahraei.1@osu.edu.Students can attend a workshop with Barbara Kopple on Wednesday, March 3rd. RSVP to Afsane at rezaeisahraei.1@osu.edu if you are interested in participating in the student workshop.This event is organized by The Appalachian Project, Ohio (a collaboration between the Center for Folklore Studies, the Department of Women's, Gender, and Sexuality Studies, and Student Life's Department of Social Change), and co-sponsored by the Department of Arts Administration, Education and Policy; American Indian Studies; Wexner Center for the Arts; Comparative Studies; Film Studies; the Department of English; the Barnett Center for Integrated Arts and Enterprise; and the School of Environment and Natural Resources. Photo courtesy of Criterion Collection at www.criterion.com
Film/Video Theater, Wexner Center for the Arts
OSU ASC Drupal 8
ascwebservices@osu.edu
America/New_York
public
Date Range
Add to Calendar
2016-03-02 19:00:00
2016-03-02 22:00:00
Film Screening of Harlan County U.S.A & Discussion w/ Barbara Kopple
***NOTE THAT THE EVENT TIME HAS CHANGED TO START AT 7PM***w/ special performance byDavid Morris and Jack Ballengee MorrisJoin us for a screening and discussion of Barbara Kopple's Harlan County U.S.A. (1976), a documentary account of the 1974 strike of Kentucky mine workers. The screening will be followed by a musical performance by David Morris, who provided some of the music for the documentary. Kopple will discuss aspects of documentary film-making as well as her current project, Shelter, which examines homeless veterans and features music by David Morris and his son, Jack Ballangee Morris.This event is open to the public but requires an admission fee. Standard Wexner film admission is $8 general public; $6 members, students, seniors. Visit http://wexarts.org/film-video/harlan-county-usa to purchase tickets.Kopple produced and directed Harlan County USA and American Dream, both winners of the Academy Award for Best Documentary Feature.  In 1991, Harlan County USA was named to the National Film Registry by the Library of Congress and designated an American Film Classic. Harlan County USA was restored and preserved by the Women's Preservation Fund and the Academy Film Archive, and was featured as part of the Sundance Collection at the Sundance Film Festival in 2005. The Criterion Collection released a DVD of the documentary in 2006.Kopple has been awarded the Human Rights Watch Film Festival Irene Diamond Award, Los Angeles Film Critics Award, National Society of Film Critics Award, the SilverDocs/Charles Guggenheim Award, New York Women in Film & Television Muse Award, the Maya Deren Independent Film and Video Award, the Woodstock Film Festival Maverick Award, Women in Film & Video of Washington, DC Women of Vision Award, the White House Project's EPIC Award, the International Documentary Association Career Achievement Award and the Sundance Film Festival Grand Jury Prize, Filmmakers Trophy & Audience Award.  The Paley Center for Media has named Barbara a 2007 "She Made It Honoree." She recently served her tenth year on the board of trustees for the American Film Institute and continues as an advisory board member for the American University Center for Social Media and Independent Feature Project's Filmmaker Labs.  In 2010, Barbara received an honorary Doctor of Humane Letters from American University.  She is a member of the Academy of Motion Picture Arts and Sciences, the Academy of Television Arts and Sciences, the Director's Guild of America, New York Women in Film and Television, the British Academy of Film and Television Arts, and actively participates in organizations that address social issues and support independent filmmaking.If you require assistance to attend these events, please contact Afsane at rezaeisahraei.1@osu.edu.Students can attend a workshop with Barbara Kopple on Wednesday, March 3rd. RSVP to Afsane at rezaeisahraei.1@osu.edu if you are interested in participating in the student workshop.This event is organized by The Appalachian Project, Ohio (a collaboration between the Center for Folklore Studies, the Department of Women's, Gender, and Sexuality Studies, and Student Life's Department of Social Change), and co-sponsored by the Department of Arts Administration, Education and Policy; American Indian Studies; Wexner Center for the Arts; Comparative Studies; Film Studies; the Department of English; the Barnett Center for Integrated Arts and Enterprise; and the School of Environment and Natural Resources. Photo courtesy of Criterion Collection at www.criterion.com
Film/Video Theater, Wexner Center for the Arts
Center for Folklore Studies
patterson.493@osu.edu
America/New_York
public
Description
***NOTE THAT THE EVENT TIME HAS CHANGED TO START AT 7PM***
w/ special performance by
David Morris and Jack Ballengee Morris
Join us for a screening and discussion of Barbara Kopple's Harlan County U.S.A. (1976), a documentary account of the 1974 strike of Kentucky mine workers. The screening will be followed by a musical performance by David Morris, who provided some of the music for the documentary. Kopple will discuss aspects of documentary film-making as well as her current project, Shelter, which examines homeless veterans and features music by David Morris and his son, Jack Ballangee Morris.
This event is open to the public but requires an admission fee. Standard Wexner film admission is $8 general public; $6 members, students, seniors. Visit http://wexarts.org/film-video/harlan-county-usa to purchase tickets.
Kopple produced and directed Harlan County USA and American Dream, both winners of the Academy Award for Best Documentary Feature.  In 1991, Harlan County USA was named to the National Film Registry by the Library of Congress and designated an American Film Classic. Harlan County USA was restored and preserved by the Women's Preservation Fund and the Academy Film Archive, and was featured as part of the Sundance Collection at the Sundance Film Festival in 2005. The Criterion Collection released a DVD of the documentary in 2006.
Kopple has been awarded the Human Rights Watch Film Festival Irene Diamond Award, Los Angeles Film Critics Award, National Society of Film Critics Award, the SilverDocs/Charles Guggenheim Award, New York Women in Film & Television Muse Award, the Maya Deren Independent Film and Video Award, the Woodstock Film Festival Maverick Award, Women in Film & Video of Washington, DC Women of Vision Award, the White House Project's EPIC Award, the International Documentary Association Career Achievement Award and the Sundance Film Festival Grand Jury Prize, Filmmakers Trophy & Audience Award.  The Paley Center for Media has named Barbara a 2007 "She Made It Honoree." She recently served her tenth year on the board of trustees for the American Film Institute and continues as an advisory board member for the American University Center for Social Media and Independent Feature Project's Filmmaker Labs.  In 2010, Barbara received an honorary Doctor of Humane Letters from American University.  She is a member of the Academy of Motion Picture Arts and Sciences, the Academy of Television Arts and Sciences, the Director's Guild of America, New York Women in Film and Television, the British Academy of Film and Television Arts, and actively participates in organizations that address social issues and support independent filmmaking.
If you require assistance to attend these events, please contact Afsane at rezaeisahraei.1@osu.edu.
Students can attend a workshop with Barbara Kopple on Wednesday, March 3rd. RSVP to Afsane at rezaeisahraei.1@osu.edu if you are interested in participating in the student workshop.
This event is organized by The Appalachian Project, Ohio (a collaboration between the Center for Folklore Studies, the Department of Women's, Gender, and Sexuality Studies, and Student Life's Department of Social Change), and co-sponsored by the Department of Arts Administration, Education and Policy; American Indian Studies; Wexner Center for the Arts; Comparative Studies; Film Studies; the Department of English; the Barnett Center for Integrated Arts and Enterprise; and the School of Environment and Natural Resources. 
Photo courtesy of Criterion Collection at www.criterion.com
---